5 New Styles of Countertops for Your Kitchen
When you walk into a kitchen, there is one element that stands out and attracts more attention than any other—the countertop. Countertops are both functional and decorative. Over the past couple of decades having just the right countertop has become more important than ever, both for personal enjoyment and to add to the resell value of a home. After all, high-end counters are one of the most desired items by home buyers.
If you've been considering a remodel or renovation, you want to choose a countertop that is desirable and current, but also one that will be appreciated for years to come. Here are five popular variations that are turning heads today, but that also have staying power.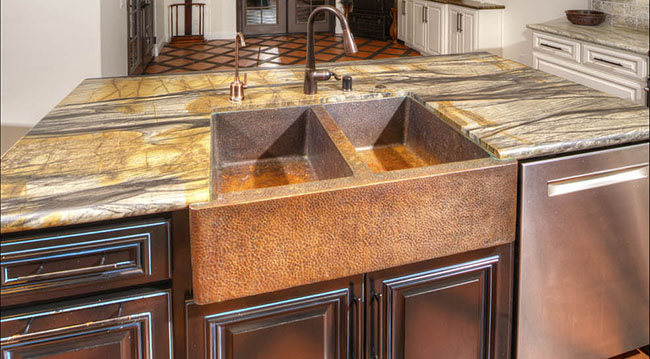 Eco-Friendly Composites – Everyone loves the look of granite or marble countertops, but taking these materials for kitchen projects isn't always the best for the environment. Today's composites include styles that are more attractive than ever before—including those made from ash and recycled paper.
Engineered Stone – Engineered stone countertops, made up of a percentage of quartz have a look that nearly matches granite, but offer increased durability and strength. It may amaze you at how many styles and colors are available in engineered stone, allowing you to achieve a unique look for your kitchen.
Butcher Block – For a warm, timeless appeal that isn't the "same old" granite or stone look that everyone seems to have today, butcher block countertops are a great choice. Many people worry about scratches or burns, but in actuality it is easy to sand these out and oil them to return them to a like-new appearance.
High-end Laminate – You may hear the term "laminate" when referring to countertops and think that the look will be low-end and boring. However, the latest laminates mimic the look of stone for a fraction of the cost. Plus, laminate is very low maintenance making them appealing from a care perspective.
Concrete – Concrete countertops are one of the most customizable styles available. Concrete can be customized by embedding with stones and other decorations, and the material can be polished or stained to achieve nearly endless looks. While concrete is durable, it does require regular sealing.
As you can see, there are more countertop options out there than just granite or "boring" laminate. Looking at all the options can help you see that your kitchen can be as unique as you are. In addition, if you are focused on making your home more eco-friendly, you can achieve this too. If you would like to learn more about the different countertop styles available today, reach out to the team at Lars Remodeling. We would love to help you find the perfect option that will serve you and your family for years to come.