How to Add a Kitchen Island the Right Way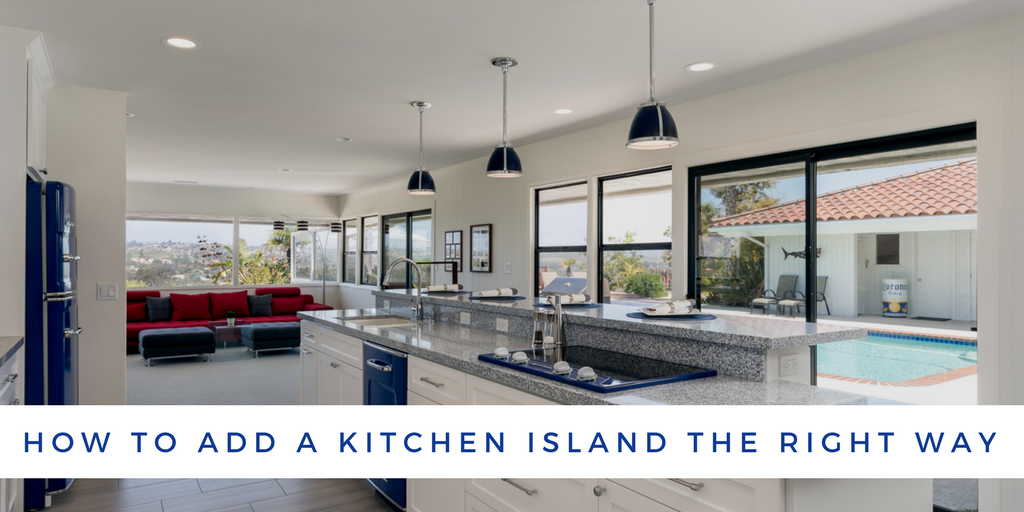 Adding an island to your kitchen can make a huge difference to both the look and functionality of your home's kitchen. Islands can pack a lot of features into a small space, making them an excellent choice for people who are looking to add a special, yet practical feature to their existing kitchen. If you're considering a kitchen island addition there are some important things to consider to make sure you add a kitchen island the right way:
Functionality
What purpose would you like your kitchen island to serve? How you'd like to use the island will play a huge part in the finished design. People add islands for many reasons; common motivations include the need for extra storage, the desire to add extra work surfaces, and a way to add a dining space to the kitchen.
Evaluate the space
Is your kitchen big enough for an island? Trying to squeeze an island into a small kitchen will make the whole kitchen difficult to use by limiting walkway space and restricting access to key areas. Designers recommend leaving at least 36" clear on every side of the island. Measure your kitchen to get an accurate idea of the maximum island size your kitchen can support without the island interfering with everyday use of the space.
Consider the shape
Your island doesn't have to be square! The desired functionality and look of your island combined with the available kitchen space will play a large role in determining the ideal shape. If you'd like to make your island a practical dining space you'll need to include an overhang to make the eating area comfortable. You can also choose a more rounded shape to soften the look of your new kitchen island. Choose the size and shape that best fits your needs and kitchen floor space.
Choose features
Once you have a clear idea of the potential shape and size of your island it's time to narrow down which features you'd like to include. There are many possible features that can be included as part of a new island. Think about the pain points of your existing kitchen for inspiration for the must-haves. You can also look to Houzz for additional ideas. Check out their features on completed island projects to see innovative and unique examples. From wine refrigerators to specialized cooking appliances, the possibilities are endless!
Pick a style
The great thing about kitchen islands is that they don't need to match your existing kitchen cabinetry, unless you want them to! Kitchen islands can work when matched to your existing finishes or when given their own unique look. If you'd like your island to make a statement be bold with your style choices instead of trying to blend the island into your current kitchen. Use your new kitchen island as a feature point by choosing different, yet complimentary materials that turn your new island into the room's focal point. Think about picking contrasting materials to those already found in the kitchen. A good kitchen designer can help you find a kitchen island style that blends seamlessly into your existing kitchen while maintaining its own style.
Choose an experienced design and construction team
Adding an island to an existing kitchen is a fantastic way to add both extra features and a designer touch. Choose a design and build team who are experienced at tying new kitchen islands into the design and feel of an existing kitchen to get the best look and functionality. The Lars Remodeling & Design team have many years of experience adding kitchen islands to homes throughout the San Diego area. Call our team today for a free kitchen island consultation.