Why Homeowners Are Remodeling Their Master Bathrooms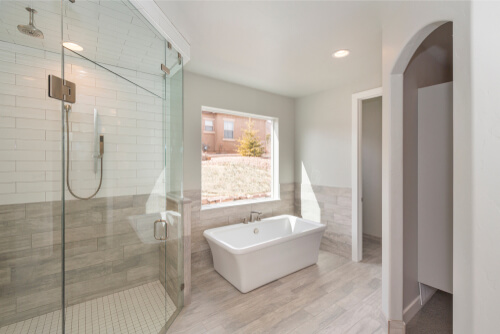 Deciding to remodel the master bathroom in your home is quite a popular option with homeowners. Perhaps you've just purchased your new home and you're looking to adapt it to your style and sensibility.
Or you're just, quite frankly, sick and tired of your old bathroom. And that's perfectly fine. When you choose to do master bathroom remodel in your San Diego home, you're giving it a new life, and yourself a place to enjoy. But there are more reasons why homeowners are having work done on their master bathrooms.
What are the most common reasons for renovating a master bathroom?
Whatever your reason for wanting to remodel your bathroom, this type of home improvement will bring more value to your property. However, if you're not sure if you should go with a complete master bathroom makeover, here are some of the top reasons why people take a sledgehammer to the bathroom.
Having the means

There are many who've been aching a fresh bathroom for ages, only never to have sufficient funds to do so. A new car, paying for kids' tuitions, home repairs tend to be priorities over a bathroom remodel. But as soon as there's excess cash, all bets are off.

Old bathroom is broken down and deteriorated

Sometimes, it's not style, but functionality. Everything loses its looks over time, sure, but it also loses its function. If you're starting to notice more and more problems creeping up in your bathroom, a complete renovation is usually better than trying to fix one problem, only to have two more appear.

Personalizing a new home

If you've just recently become a fresh homeowner, it's expected that you want to put some of your own finishing touches all around. Master bathroom is no exception, and it's one of the first places people look to make their own once they purchase a home.
What makes people remodel their master bathrooms?
Now, there are various design issues, among other things, that get people eager to remodel their bathroom. We'll call these issues pet peeves from now on. They range from outdated bathroom solutions to functional problems. Let's see what the biggest pet peeves are:
Outdated design

The most usual problem that homeowners face is that their bathroom is simply out of style. It looks completely outdated, feels old, and doesn't give you any satisfaction to spend time in. A quality remodel is just what you need at this point.

Small showers

Perhaps you've been suffering within insufficiently large showers for quite some time now, and you just can't take it anymore. A remodeling reason such as this one is just as viable as all the others, and even more common than you might think.

Insufficient storage

Bathroom storage is just as important as storage all over your home, but not as frequently discussed. However, there may come a time when there simply is no more room for the increasing number of towels, bathrobes, and other bathroom paraphernalia. A remodel might be your only option.

Poor lighting

Although bathroom lighting does not seem as important as some of the other items on the list, it is still a vital part of a good atmosphere. The good news is that you don't have to remodel the entire bathroom if the lighting's bad. Just contact a home remodeling expert to take care of the lights, and you're good.

Bad ventilation

Finally, one of the top 5 pet peeves for a master bathroom remodel in the San Diego area is bad ventilation. And this really can become a serious issue if unresolved on time. Among all the irritations that deem a remodel necessary, this is a big one.
Do people hire professional remodelers for a bathroom brush up?
You'd be surprised by just how often people turn to experienced professionals to perform bathroom renovations in their homes. Typically, 83% of all homeowners hire contractors for their renovation wants and needs.
And why wouldn't they? Sure, you might be able to do some tasks on your own, but chances are that the work you do wouldn't be up to the standards of seasoned remodeling professionals.
When you hire contractors to remodel your bathroom, you're eliminating all the hassle of having to do it alone. Plus, you're trusting your home to true experts with hundreds of remodeled bathrooms under their belts. That is why people turn to pros.
Where in San Diego can I hire the best bathroom remodel contractors?
If you're aching to do something with your bathroom, you should do all you can to find the most dependable contractors in the business. However, with Lars Remodeling & Design here, you don't have to look for long to find the best in the business.
We offer a wide array of high-quality remodeling services, and we are certain that whatever it is your house is needing, we'll be able to help you out. We pay attention to even the tiniest of details, making sure that every inch of your home is a feast for the eyes. If you want experienced contractors, you want us. Contact us, and let's spruce up your home together.