The 7 Best Kitchen Trends for 2017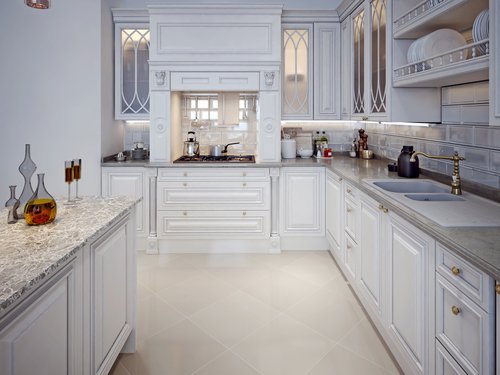 Whether you're ringing in the New Year with a vow to shed winter weight by swimsuit season, or to finally master baked brie, giving your kitchen a makeover is the perfect way to start fresh this year. Midcentury touches and going bold is in, and playing it safe is out. Here are seven ways to ring your kitchen into the new year:
  

White on White
White cabinets have always been a staple in kitchen design, and they're here to stay! The National Kitchen and Bath Association (NKBA) reported that sixty-seven percent of its members list white as their top choice for cabinet color. Layering white elements in a kitchen creates a clean look by itself and lets you showcase pops of color. Try layering a white subway tile backsplash with white cabinets and a dramatic apron-front kitchen sink (also in white). Black cup cabinet pulls and natural wood countertops are both neutral accents that pair chicly with a whitewashed kitchen.
A counter-to-ceiling white tile backsplash is the perfect backdrop to sleek white shelves in the kitchen. Stack white dishes cleanly on shelves to add another element of white or use the clean scape to showcase patterned or brightly colored dishes. For extra food storage, stock the same shelves with clear jars filled with pasta, flour, sugar, or nuts. White-on-white kitchens can be subtly accented with natural wood countertops (try using reclaimed wood for an eco-friendly touch) or plants. Try succulents or cacti for low-maintenance greenery that compliments your sleek kitchen design.
Plenty of Patterns
Bold patterns are back! We've seen tribal patterns creeping into designs from fashion to home interiors and in 2017, Navajo rugs will give way to new bold patterns and daring-chic colors. Hand-made brush strokes and drawn line patterns are a beautiful way to start introducing more pattern play in your home. Patterned tiles create stunning flooring.
Jungle patterns may seem daunting—until they're paired with the clean-lined walnut cabinets or a gray tile backsplash. Don't be afraid to use more than one pattern in your kitchen. Try creating a geometric pattern with monochromatic backsplash tiles that lead into bold, floral-print wallpaper. Patterned wallpaper can create a stunning ceiling, too!
Mix & Match Metals
Though the features may be subtle—sink faucets or cabinet hardware—metals set the tone for your kitchen, determining how warm or cool the space feels. With metallics being a key element in several of 2017's top kitchen design trends, learning how to tastefully mix and match is key to keeping a room chic. Warm copper tones found in metallic-patterned wallpaper can be cut with a polished chrome faucet, or try adding a statement-making stainless exhaust hood. Cool stainless steel appliances can be warmed with metallic drawer pulls in bronze or copper. Brushed-gold light fixtures can add depth to a stainless-steel heavy kitchen as well.
Bold Color
Twenty-seventeen welcomes warm-toned blood orange, tangerine, and ruby, and salutes cooling black plumb, emerald, and lilac. If you're recalling the way your mother accused dark colors of making a room feel small, have no fear—that's a myth—and the kitchen is the perfect room to mix bold tones.
Saturated wall color can be offset with neutral countertops and white cabinets, or complimented by furnishings dressed in another deep-hued color. Try deep plumb walls and deep turquoise cabinets. Painting cabinets with a bold color can help tie in patterned wallpaper. Pairing color with whites, neutrals and metallics creates a fun, cozy space. A metallic faucet and hardware brighten dark tones while white countertops and chair upholstery make stitching together multiple bolds seamless.
Smoky Sultry
Midcentury mod was haute in 2016, and that was just the start. The look of smokey-sultry calls on yesteryear chic to incorporate walnut and retro patterns into 2017's vogue kitchens. Think Mad Men—amber whiskey in lowball tumblers, warm wood tones, and geometric patterns. Mirrored metallics, amber tones, ornate screens, and copper concrete dress every room beautifully and the kitchen is no exception.
Balancing sleek lines with organic curves is the name of the game. Try combining handleless drawers and cabinets in warm walnut with bold art deco wallpapered walls. Go for metallic wallpaper that combines copper with monochromatic patterns. Finish the look with off-white globe lantern lighting and an under-mount sink that blends seamlessly with countertops.
Noir
Add drama to a kitchen dominated by white cabinets with a black center island, sleek black countertops made from recycled paper, or black cabinet hardware. Natural wood cabinets remain soft when brushed with black stain that lets the grain peek through. Mixing modern pieces with vintage sculpts an elegant, glamorous look.
Try pairing modern hanging light fixtures (think copper tones or glass globe fixtures) and clean white or gray subway tiles with a noir-painted antique china cabinet. The amber hues of smoky-sultry are a great addition to bring warmth to a smart noir kitchen. Add a decorative metallic amber bowl to a black-stained table. Introduce pattern to your kitchen with a black and white tiled floor. Swap the checkerboard look for a more intricate pattern. Chunky rectangular wall tiles create a subtle hint of pattern play without a tone overload.
Pale Neutrals
The kitchen is the perfect place to play with pale-neutrals. Muted colors pair nicely with kitchens that have opted to go-gray, another trend that's expected to stand strong in the new year. Make your kitchen blush with pops of mauve and touches of warm metallics. Finish icy blue cabinets with copper pulls and a patternless, slate-colored countertop. Like in white-on-white schemes, an apron-front kitchen sink (in white or off-white) can add depth to a pale neutrals palette. Bring a little San Diego beach vibe into your kitchen with pale blues and neutral sand colors.
Depression-era colored glass is a beautiful way to introduce pale neutrals into your kitchen. Try using green, pink, or blue mason jars as drinking glasses—they look great displayed on open kitchen shelves. Stick some pink roses in a pastel blue or green glass vase for the same look.