12 Ways to Take Care of Children & Pets During Remodeling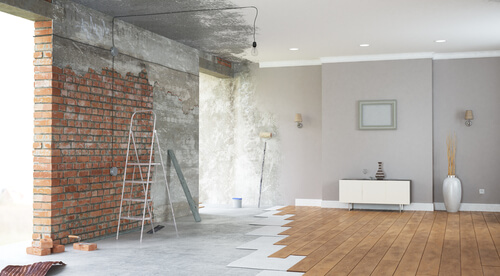 When you're about to have contractors visit your home, besides looking to hire the best contractors in the market, you need to consider other aspects of doing some remodeling of your San Diego home.
It doesn't matter if you're just remodeling your bathroom, or if you're going for a complete home remodel, you need to think about the safety of your children and your pets. Even more so if your children are small and your pets always happy to meet new friends. This can be difficult if you're not familiar with all the different problems that may arise, or with quick and easy solutions to them.
How do I keep my kids and pets safe during a remodel?
Take a look at the steps you can take to keep your children and pets safe during a remodel.
Separate entrances for family and workers

Assigning a separate entrance to workers will ensure they do not accidentally leave any of their tools around the non-work areas. The worker entrance should be as close to the construction zone as possible, so as to minimize any unnecessary traffic through your home.

Relocate in case of hazardous materials

If the contractors notify you there are hazardous materials around your home, such as mold, asbestos, or lead paint, you should find a place to stay. Also, if your children have allergies or asthma, it's better to stay away from construction work because of all the dust.

Safe play area

When there's construction happening in your home, you'll be spending a lot of time telling your kids "No". Don't play there, don't do that… Why not designate a safe area for your children to play? This will allow you to explain everything more easily to your kids, and allow them to completely take over a room for themselves.

Keep a watchful eye

However, even when you've designated a safe play area, you still need to keep a close eye on your kids during construction. The same goes for your pets too. Do not leave your kids or your unattended, even when construction workers finish for the day. Remember – active or not, your home is still a work site.

Borders

Make sure that the construction area is clearly indicated. That means asking the contractors to use yellow tape and clearly mark the territory they'll be occupying for home remodeling purposes. You can even border off work areas with plastic sheets to stop dust entering your home, and your kids wandering off to construction areas.

Keep your pets safe too

You need to keep your pets as far away from work areas as possible, so as to ensure both their safety, as well as the safety of the workers. If you plan on keeping your pets home for the duration of the remodel, it's good for them to meet the workers. Here's what else you can do to keep your pets, and the workers, safe:

Fence a place for your pets to enjoy, but make sure it's away from the construction.
Doggy day care is also a great option if there's major construction happening.
Finally, you can keep your pets in a closed room while contractors are working.

Continue your daily routine

Routines are important to your pets, especially cats and dogs. They greatly value their everyday habits, and switching things up could get them down. You should continue with the same feeding schedule, as well as keep up with exercising habits. Also, you need to know that remodeling is not an ideal time to switch food and treat brands. Keep up with their routines, and they'll thank you for it.

Microchip your pets

With all that's going on, your pets might decide to run away from ongoing construction work, especially if they're very sensitive to noise. It's a good idea to have your pets microchipped, and also make sure your pets have tags and collars with current owner information on them. Although this is an unlikely scenario, it's one you should be prepared for.

Prevent escape attempts

Now, this is really important for all cat owners. Kitties love to explore and run about, and they dislike boundaries. However, when there's remodeling going on in your home, you need to make sure you block their escape routes. Don't leave doors open, and put up signs that remind people to close the doors behind them.

Mind the fumes

Pets are extremely sensitive to harmful fumes, a lot more than we are. If you're planning to refinish your floors, or do anything else that involves dangerous fumes, make sure you get your pets away from your home for the duration of the renovations.

Coordinate

Discuss what you plan to do in order to keep your children and pets safe during remodeling work with your contractor. Create a strategy and see how workers can contribute to keeping everyone in your household safe. Also, provide information on your children and pets to the workers, and insist that they put away all their tools before finishing up for the day.

Get out

Get outdoors as often as possible, and take your children and pets with you. This is a great way to not only enjoy an amazing day outdoors, but to also get away from all the noise and dust. Plan a picnic, a sightseeing tour, visit a playground or a dog park…
Who are the most reliable home remodeling contractors in all of San Diego?
If you want to renovate your home, you want to hire the leading contractors in the business in order to ensure quality work and maximum level of safety for you, your family, and your pets. That is why you should contact Lars Remodeling & Design.
Our selection of remodeling and design services is so varied that we know you'll find what you're looking for. No matter if you're planning an addition to your master bedroom, or if you're considering adding an open-plan space to your home. We're here for all your remodeling needs. Contact us today!