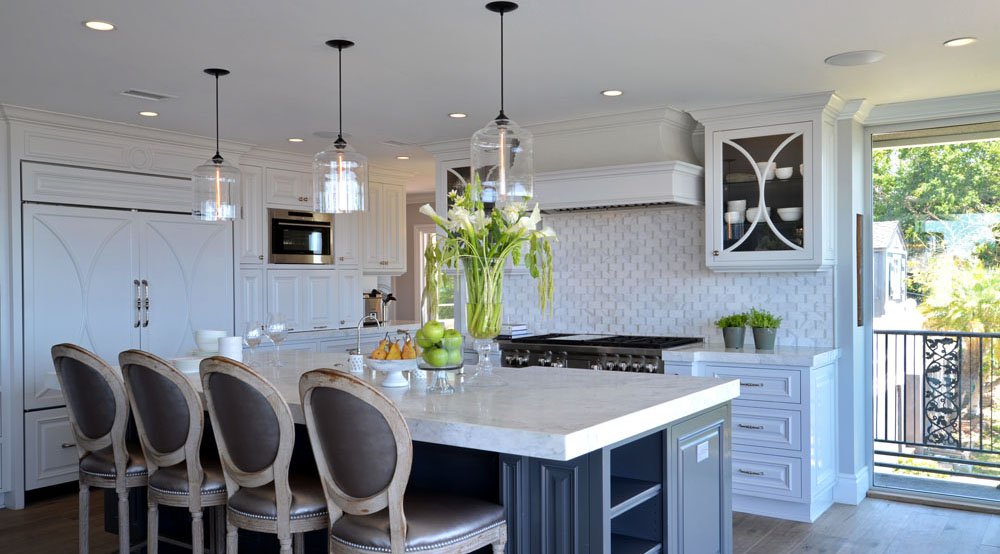 Make Lars Remodeling & Design your first choice for design-build remodeling in San Diego
It takes an experienced team to bring your design-build home remodel dreams to life, and Lars Remodeling and Design does just that. We're a San Diego based, award-winning design-build company comprised of the best creative designers and talented craftsmen in the area. At Lars Remodeling & Design we have over 26 years experience as a design-build company. Our business is built on a combination of family values and a tradition of trust. We believe every relationship should be built on this tradition of trust, and we work closely with every client to create an open and honest relationship. For a design-build experience that is second to none, choose Lars Remodeling & Design for your design-build remodeling in San Diego needs. Our team will work hard to ensure every aspect of your design-build project is completed to the highest possible standard. Read More
The most recommended design-build company in San Diego
Lars Remodeling & Design prides ourselves not only on the quality of our workmanship, but also on our customer service. That's why we're one of the most recommended design-build companies in San Diego. There are three key components that make us one of the top San Diego design-build firms:
Our design team is incredible. We hire only the best and most innovative designers to be part of our design team. They understand the importance of getting to know our clients so they can fully understand their design needs for their home design-build remodel in San Diego. They also guide each client through the design process, offering advice on each decision to make sure that the process is stress free and the completed design exceeds the client's expectations.
Our build team is extraordinary. We accept only the best from our construction team and they give their all to each and every task. Their vast experience and knowledge of the best construction techniques means that every design-build job in San Diego they take on is completed to the highest possible standards. But the build team aren't just highly skilled craftsmen, they're also exceptional problem solvers who know how to get a job done without sacrificing quality. Every remodel project comes with it's own set of challenges, whether it's limited work space, restricted construction hours, or a challenging delivery site, our construction team have the experience and ingenuity to make every remodel a success.
Our customer service is exceptional. You could have the best designers and craftsmen, but without great customer service your design-build remodel experience would be miserable. At Lars Remodeling & Design we understand that great customer service is integral to any remodel project. Our team works hard to make the experience positive for every one of our clients.
Designed and built just for you
We believe that your design-build home remodel should be designed just for you. That's why our designers work closely with each client to create a list of needs and wants, and likes and dislikes to create a clear vision for the finished remodel. Our build team excels at bringing these plans to life using only the best techniques and materials. This design-build approach gives us the freedom to create and construct a truly custom remodel that's guaranteed to be loved for years to come.
Let Lars Remodeling & Design manage your design-build remodel from start to finish
As a San Diego based architectural design-build company with 26 years of experience designing and remodeling San Diego homes, we've developed a proven client-centered process to make every remodel project run smoothly. Whether the renovation project is small or large, we're experts at planning and managing home remodels from concept to completion. When you choose Lars Remodeling & Design for design-build remodeling in San Diego our team will take care of every step of the remodel process. From the architectural design to adding the finishing touches, our team is hands-on to ensure your remodel brings your design-build remodel dreams to life.
Call us today or fill out our online form  for more information on how Lars Remodeling & Design can help with your design-build remodeling plans. As one of the top design-build firms in the area, we're a contractor you can count on.
Frequently Asked Questions
Q: How much money should I set aside when budgeting? [Expand]
A: Lars recommends setting aside 10% for unforeseeable expenses and possible changes that you may decide to do while we're already there.
Q: Will my home need to be tested for asbestos? [Expand]
A: Yes, if your home was built before 1978.
Q: Does Lars use subcontractors? [Expand]
A: Lars uses preferred trade partners that are required to sign Trade Partner Agreement's and meet our Lars service standards.
Q: What qualifies a company as a Design-Build remodeler? [Expand]
A: All services must be in-house to be a full-service Design-Build remodeler; Drafting, Estimating, 3D Design, Interior Design and Project Management.
Q: What is the value of purchasing my appliances & plumbing fixtures through Lars? [Expand]
A: All appliances & plumbing fixtures are price protected. Lars has an Appliance Specialist on staff that will guide homeowners to what is best for their needs. Installation & warranty is handled by Lars.
Q: Remodel or sell my home? [Expand]
A: Buying a new home will come with new neighbors and new taxes. Remodeling your home adds value and only incrementally increases your property taxes.