Here Are 3 Things You Should Do After a Remodeling Project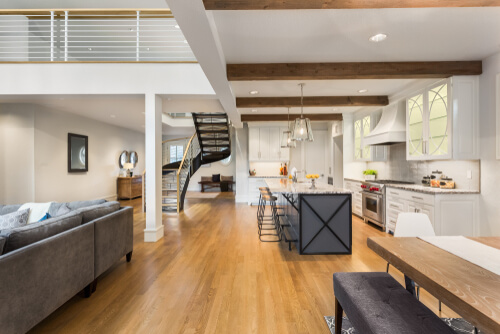 So, your remodeling project is finally complete. You've thanked your workers wholeheartedly, waved them goodbye, and now you're at a loss at what to do except marvel at the finished result. What do you do now? Is there anything you can do to extend the pristine beauty of your new remodeled space?
Yes, there is. Whether you've invested in a modern second-story addition for your home in San Diego or want to make your whole-house remodel last, knowledgeable home renovation specialists are here to elaborate on three crucial steps you should take after your renovation project. Keep on reading!
What should I do after a home remodel?
While you may be inclined to worry more about what you should know before your kitchen remodel or any other renovation project than what you should do after it, there are some steps you should take to ensure maximum benefits from your remodeled space. Here's what you should do:
Don't skip maintenance

Having a good cleaning routine is essential for ensuring a long-lasting appeal of your remodeled space. In addition to regular dusting and vacuuming, here are some areas in your home that may require some extra elbow grease:

Bathroom fixtures:certain bathroom elements such as the rain head can develop build-up over time and should be deep cleaned every once in a while in order to maintain their functionality.
Air and water filters:making sure your filters are free from dust and debris is a must if you want to ensure optimal performance from your air conditioning and purification systems. Make sure to clean or replace them every couple of months.
Natural stone: if you are new to materials such as marble, granite, or other natural stone options, make sure to consult with your remodelers for the best cleaning and maintenance tips.

Take good care of your floors

It's only natural that you'd want your fresh hardwood floors to stay in tip-top condition for as long as possible. We recommend taking the following steps to keep your floors looking good:

Prevent scratching and scraping by putting felt pads on the chair legs
If you have dogs, trim their nails regularly to prevent them from damaging the floors
Place a doormat at your entrance to keep dirt from entering the house
Use cleaning products designed specifically for hardwood floors

Register your warranties

Unless your remodeling company has registered your warranties already, we recommend going through all your warranty paperwork. Fill out any product or appliance cards and register your information to make sure you are covered in the case of any malfunctions. We know that you'd rather spend the time using your new cutting-edge appliances, but you'll do yourself a big favor if you take the time to do this step. You surely don't want your expensive dishwasher to break down only to realize that you never registered the warranty.
The #1 choice for your San Diego home renovation
Lars Remodeling & Design is a long-standing home remodeling company serving San Diego and its surroundings. We are a team of trained and experienced professionals known for carefully thought-out and masterfully performed renovations. Not only will our seasoned remodelers employ cutting edge techniques and expert knowledge during the remodel, but they will also share useful information on any follow-up maintenance tasks you should take in your home.
If you are ready to transform your home into a cozy and stylish haven you've always wanted, don't hesitate to contact Lars Remodeling & Design today. We are here to bring your design vision to life. Reach out to us today!