Indoor-Outdoor Design Ideas: 8 Ways to Bring the Inside Out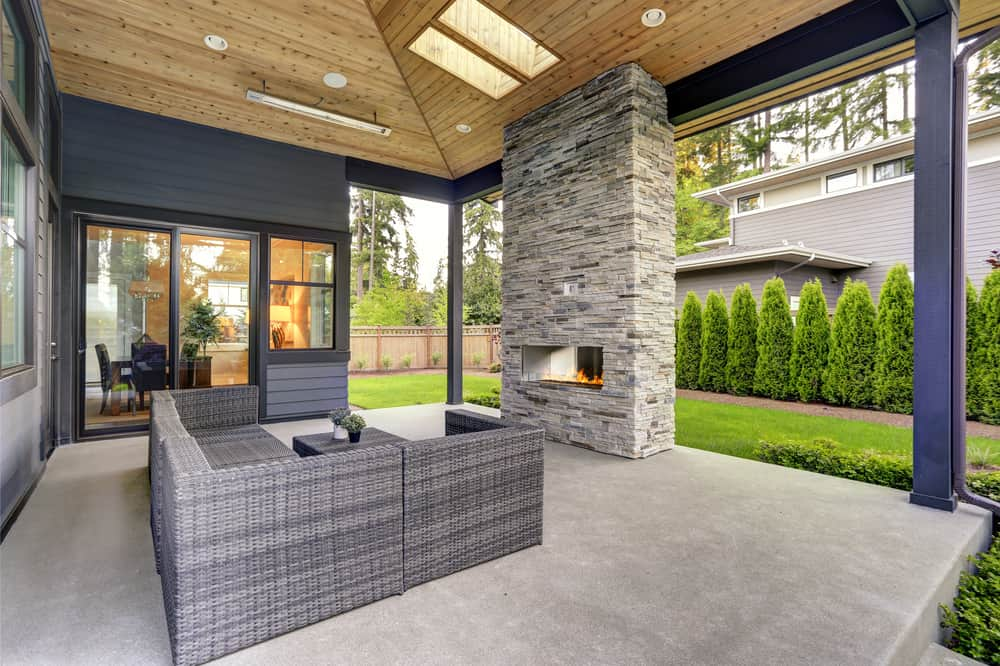 Traditional style tends to have a very clear distinction between the interior and exterior. Houses that feature this style have relatively narrow door openings to the garden, often without windows or perhaps with a set of French doors with a step leading down onto a terrace. 
Lately, new design styles have made their way into the spotlight. Homeowners are looking for homes with a much greater sense of space, soothing and inspiring views of the garden, and a connection between inside and outside areas. If you live in southern California, this trend is especially true due to the mild climate year round.
Outdoor spaces can be as terrific as your indoor living area if you invest a bit more time and effort in their design. Below, you can find 8 stylish tips for creating a smooth transition between the inside and outside, bringing in more light, adding to its appeal, and potentially increasing its value.
How do you connect indoor and outdoor spaces?
Whether you're ready for minor upgrades or want to seek help from professionals to implement some of the most recent remodeling trends, here's what will help you create a beautiful outdoor haven with a sense of indoor comfort:
1. Consider the architecture
If you're building a new home and planning its layout, think about the position of doors and windows. Don't just consider the view, privacy, and ability to access the garden, but also think about the passage of the sun during the day. 
Orientation will influence the quality of light in your indoor space and outdoor areas. If your living areas are south-facing, the light will change quite dramatically over the course of the day. If your house is north-facing, the quality of natural lighting will be more consistent.
So, consider building an outdoor extension with a large glazed roof and doors to create a view of the garden and let in a lot of light. You can create a room that has an outdoorsy feel by bouncing off light and allowing it to come in from many different directions. This can help you can create an illusion of being outdoors.
2. Connect the kitchen and the alfresco area
If you prefer outdoor entertaining, a really good idea is to create a connection between the kitchen, possibly the dining room, and the alfresco area. You can set up a bar or a lounge area that opens up to your alfresco zone. This way, if you are stuck in the kitchen, cooking dinner for guests or doing the dishes, you can still communicate with everybody and enjoy an inviting atmosphere.
3. Be creative with plants
There's no better way to create a relationship between the inside and outside than by using plants. From landscaping your garden to decorating your home with beautiful flora, you can not only create an indoor-outdoor flow, but also add a touch of serenity and peacefulness.
So, choose your favorite indoor and outdoor plants, use a similar decoration theme, and place them strategically in your home and outdoor area. This will help you create a truly welcoming environment with a seamless flow.
What's more, plants, flowers, and trees will surely add color, fragrance, and beauty to your indoor-outdoor space. However, it often happens that people don't have as much space for trees and greenery as they would like. Try hanging plants at different levels and combine them with interesting flowerpots. Also, vertical gardens can be an excellent option for homes with limited square footage.
4. Explore natural materials
Natural materials can create a visual contrast against typical garden materials such as stone or concrete, bringing a touch of warmth. You can combine them with greenery and your indoor area, especially if you go with the same materials and hues.
So, adding natural materials will make your house seem warm, welcoming, and more comfortable. However, make sure to combine elements that will complement each other to create a cohesive look.  
Lately, more and more designers have been using various natural and organic materials to create areas that exude warmth and coziness. Organic cotton, wood, rattan, bamboo, and wicker are just some of the options you can use instead of synthetic or artificial materials.
5. Combine warm colors for a cozy feel
For outdoor-indoor living areas, using the right color palette can be crucial for creating a welcoming vibe. Warm, natural, earthy tones have been popular for years since they are enticing and calming. Colors like dusty red, golden yellow, olive green, terracotta, and brown are a great choice for bringing the outside in and vice versa.
6. Don't forget lighting 
One of the most essential elements in emphasizing the beauty of any type of space is lighting. What makes lighting such an important factor is the fact that you can be creative and go with a number of different options.
For instance, you can incorporate outdoor cafe lights, hanging lanterns, or lamps with appealing shapes to help with general lighting in your outdoor haven. You can even use some indoor fixtures to give a touch of authenticity and warmth to the area. So, make sure to layer different light sources and styles to make the outdoor-indoor area stand out beautifully even at night.
7. Decorate with furniture
Add character, personality, and comfort to your outdoor-indoor living space by choosing the right pieces of furniture. Be versatile, use what you have, and do not be afraid to mix and match. 
Also, to create a connection between the interior and exterior, you can even use some indoor furniture outside. For instance, adding a cozy armchair or a stylish coffee table can make a world of difference when it comes to ambiance. 
8. Play with patterns
Finally, you can connect the interior and exterior by using the same patterns and motifs. However, consider the balance, aesthetics, and style of your areas while combining patterns to create a cohesive look. 
So, mind your decorating style and choose a clear theme to tie everything together. Geometric, floral, and tropical patterns are among the most popular. Just remember that it's necessary to blend these patterns carefully. Mix simple geometric designs with more free patterns, such as floral or foliage motives, to balance them out.
Who're the best home remodelers in San Diego to help me bring the inside out?
Here at Lars Remodeling & Design, we have a team of designers and remodelers ready to give your home the upgrade it needs. From helping you boost the curb appeal of your home to helping you choose savvy upgrades for your space, we'll provide you with assistance and expert advice throughout the process. 
So, if you're ready to give your home a makeover, let us step in and take over. We'll be happy to help you create a home that suits your needs and lifestyle. Contact us today!