9 Tips on Taking Care of Your Neighbors During a Remodel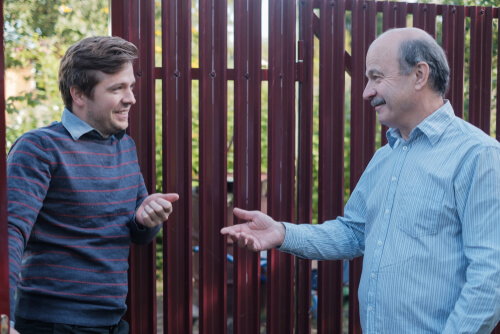 Going for a remodel entails an already full plate. You have to think about the budget, approve a design, find reliable local remodeling contractors to actually remodel your home. That leaves little time for thinking about other equally important aspects of remodeling.
How should I handle my neighbors during a remodel?
While you probably have thought about the ways to keep your children and pets out of harm's way, have you had the time to think about your neighbors? With all the noise and dust that's about to start, you really should know how to do all in your power to make your remodel be easy on your neighbors too.
Homework

The most important thing you need to do prior to starting renovations on your home is to notify all your neighbors of upcoming construction work. However, it's wise to be prepared when keeping neighbors in the loop. Consult your contractor about the important details of your remodeling project, and tell your neighbors all about it.

Be ready for questions

The second part of doing your homework is being aware that your neighbors are probably going to have questions for you. These are some of the most common questions people tend to ask when someone in their neighborhood is preparing for construction work:

When does construction begin?
How long will construction last?
What types of vehicles and machinery will be involved in the construction?
Should I worry about road closures, port-a-potties, and extra vehicles?
Is your design going to match the neighborhood?

Brace for emotions

You can expect different reactions from your neighbors when you approach them to inform them of the remodeling. The emotions range from curiosity and excitement to indifference and even outward hostility. These reactions are completely fine and perfectly expectable. All you need to do is be ready for it, listen attentively, and be empathetic. That's often enough for the situation to calm down and return to normal.

Bring the information

Now, once you start visiting your neighbors, bring some information with you as well. That means taking design plans with you in order to help the neighbors get a rough idea of what the renovations are going to look like once finished. Also, have the information about the following matters at hand:

The date and time when the construction work is expected to begin.
The expected duration of the work.
The equipment the contractors will be using during construction.
The necessity for neighbors to move their vehicles at a certain time of day.
The potential for the entire street to be blocked off due to work on your home.
The work schedule of the contractors.
The information concerning the legality of your renovations.

Also, take any potential grievances into account and consult the contractors about, perhaps, changing the schedule a bit.

Keep your neighbors in the loop

Unless the remodeling project is extremely short, shorter than a week, you're going to have to notify your neighbors about how construction's coming along. You can expect to do this several times throughout remodeling. It's also important to ask the neighbors how they would like you to notify them of the progress. Some would like you to swing by, while others prefer to be kept posted by text or email.

Important information for updates

When you're preparing to notify your neighbors about the ongoing construction in your home, make sure you include the following information:

The construction crew has to close the entire street off for a day or two.
The contractors are expecting a large delivery that is likely to affect parking.
The potential delays on your renovation project.
The expectancy of excessively loud construction work for a certain amount of time.
The end date is in sight.

Resolve potential issues

It's always a possibility that not everyone is going to be completely happy with the construction work in your yard all the time. Issues can always arise, and you need to be both quick and calm when trying to resolve them. Listen to everything your neighbors are complaining about, be respectful, ask questions, and do everything you can to take care of the problems as quickly as possible.

Also, you can always try giving your neighbors a couple of gifts to help ease the problems:

Noise-canceling headphones or earplugs.
Paid time at a coworking space for those neighbors who are currently working from home.
Doggy day care passes for neighbors with extremely sensitive pets.
White noise machine for families with babies.
Massage, movie, or dinner gift cards.

Minimize congestions and noise

Do your part when it comes to minimizing street congestion and construction noise. No renovations are silent, but they do not have to be overly loud either. Also, while construction vehicles and machines might have to be present, and they do take up space, they do not have to take up all the parking space in the neighborhood. Here's what else you can do:

Prevent construction equipment blocking driveways and dumpsters.
Inform the construction workers about where not to park.
Free up parking space by parking your own car around the corner.
Find a port-a-potty location that is far from the eyes of your neighbors.
Talk to the construction crew about regularly clearing any debris.
See if it's possible that the crew start work after 8 A.M., and finish work no later than 5 P.M.

Thank the neighbors

Once the remodeling wraps up, make sure you visit all your neighbors and offer your sincere thanks. While it is not necessary to bring any gifts to them, a bottle of nice wine or a bouquet of flowers goes a long way towards making sure your thank-yous carry weight.
Who are the leading local remodeling contractors I can turn to?
If you're looking for dependable and experienced contractors for a touch of renovating, you can look no further than Lars Remodeling & Design. We offer a wide range of different remodeling and construction services, and all you need to do is tell us what you want.
We perform exquisite bathroom renovations, or we can make a modern addition to your master bedroom. There's so much that we do, and all of it we do with a great degree of dedication and knowledge. Contact us today, and let's see how we can revamp your home.