Why Wood Works in the Bathroom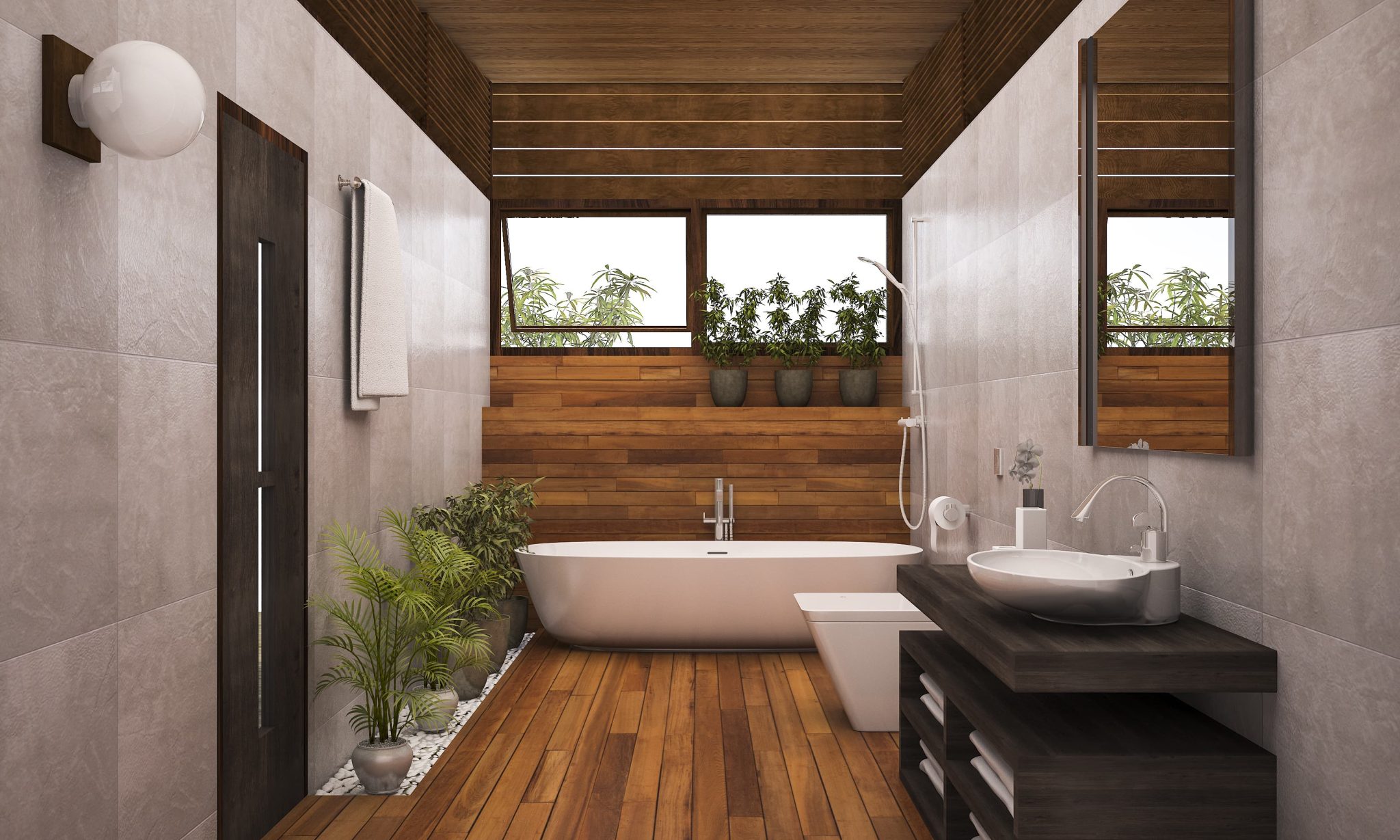 When envisioning a bathroom, most people think of white or otherwise pale tiles, ceramic finishes, white cabinets, and maybe a colorful shower curtain or shower mat. While there's nothing wrong with this traditional bathroom design, the reality is that it often lacks the feeling of warmth that is evident in most other rooms in our homes.
Luckily, adding wooden floors or covering surfaces is an easy and highly effective way to make your bathroom feel more homey and natural. This used to be a big no-no when it came to interior design simply from a maintenance perspective (water+wood is NOT a match made in heaven), but cutting-edge paints, sealants, and flooring materials engineered to have the look and feel of real wood without the headache have made wood a perfectly valid material for your bathroom decor.
How do I incorporate wood elements into my bathroom?
Here are 5 great ways to use wood in your bathroom:
1. Extend wood flooring up the wall
Want to make your bathroom really feel like a spa? Pick a section of your wall space and run the flooring all the way up to the ceiling there. This simple technique instantly makes your bathroom look considerably more relaxing and warm. Just make sure there's enough ventilation to keep the wood from warping or getting moldy.
2. Adding wood beams to the ceiling
Ceilings are often overlooked when it comes to decor. A simple way to really give your bathroom a warm and rustic feeling is to add some wooden beams to the ceiling. If your bathroom has a high or an unusually shaped ceiling, you can really turn it into a showpiece by adding some creative beams.
3. Wooden bathtubs
A wooden bathtub sounds like a terrible idea on paper because there's always the risk that it may leak or swell up. But the reality is that many cultures have been producing excellent wooden bathtubs for centuries that can be customized to work within your space.
For example, the Japanese use aromatic woods such as hinoki or cedar to build their ofuro soaking tubs, while Scandinavians are experts when it comes to making state-of-the-art teak tubs. The drawback of these tubs is that they require regular maintenance and specific care routines.
4. Wood slab bases for sinks
Why use a basic white vanity, when you can get a live-edge wood slab or a butcher-block base for your sink? Not only does the wood texture serve as an excellent contrast to a white sink and other items on your vanity, wood both looks and feels warmer to the touch, making it the perfect material during the colder months of the year. Again, care and maintenance is the key to its longevity, but if you are willing to put in the work, wood can add unmatched charm.
5. Adding reclaimed wood
If you want to incorporate wood into your bathroom without breaking the bank, a great way to do so is by adding reclaimed wood in limited areas. For instance, you could use a reclaimed wood mirror frame, open shelving accents,  or even as a  toilet cover. Just remember to make sure it's been treated for water resistance.
Who are the most reliable home remodelers in San Diego?
Whether you're planning to renovate your bathroom, completely refresh your kitchen, or simply update the ceilings in your home, don't hesitate to give Lars Remodeling & Design a call. Our team of interior designers, remodeling experts, project managers, and trade partners is unmatched when it comes to supplying first-rate renovation services in San Diego.
Would you like to redo the lighting in your home office? Or perhaps you need professional advice on which shade of blue best fits your living room? We can help you out with all of that and more!
Reach out to us today, or check out our online gallery if you'd like to see some examples of our work. We're eager to meet you and provide you with the perfect home you've always dreamed of!