Linoleum Kitchen Floors: What Lurks Beneath?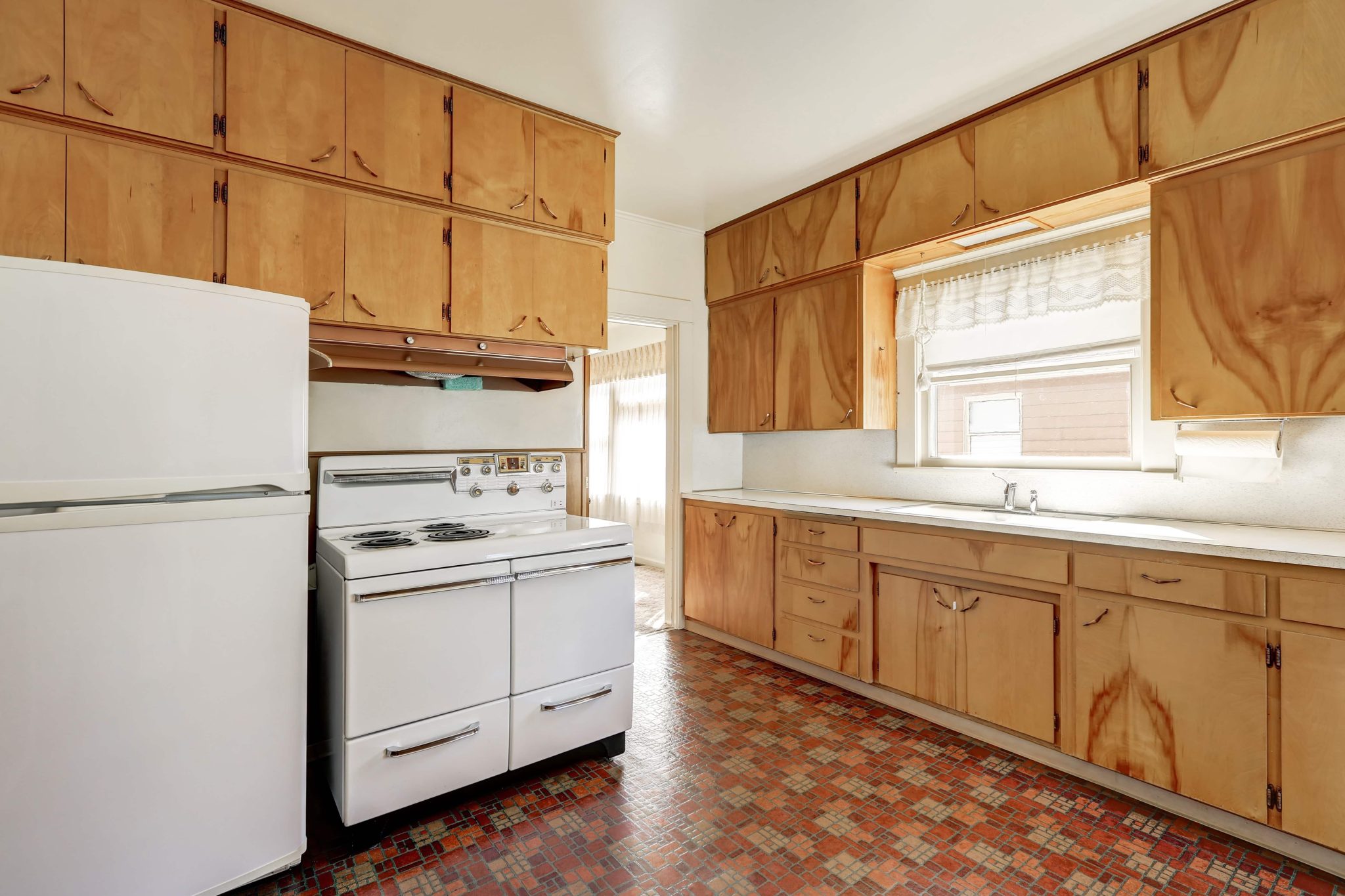 Although there are all kinds of modern linoleum flooring for your kitchen, linoleum still seems like a relic from the past many homeowners are looking to be rid of. But what lies underneath? How can you approach your kitchen remodel if you have no idea what awaits when you remove your old flooring?
Yes, when thinking about remodeling your kitchen there are certainly more attractive ideas than the flooring, such as the many creative ways to spruce up your kitchen island. But removing linoleum could be essential to truly giving your fresh kitchen a contemporary look. Let's see what you can expect beneath your linoleum once you hire kitchen remodel experts in San Diego.
What is beneath my linoleum kitchen floor?
Renovating the kitchen in an older house can be a similar experience to slicing an onion – there can be layers beneath layers, and you have no idea what could be lurking beneath the next one. This is especially true for linoleum floors, as there is always a base floor beneath it. But what could it be?
Oddly enough, it's usually wood that lurks beneath the unappealing linoleum or vinyl. This wood is usually called the subfloor, and it wasn't intended for it to be a finished floor. But, it's wood, and professional contractors can get it looking pretty good. So, should you transform your subfloor into your "real" kitchen floor? You can, and here's why.
Why should I use the wood subfloor as my finished floor?
Although the name "subfloor" does sound like something that should never see the light of day in your kitchen, the truth is actually far from it. There are several reasons why turning our subfloor into a finished floor for your kitchen can turn out to be one of the best remodeling decisions you've made.
Unique beauty – This kind of vintage, wood-plank subflooring can give your kitchen plenty of character. They look incredibly rustic with their tiny irregularities and imperfections, which doesn't make them an ideal match for every homeowner, but if you like the flair of old Americana, this can be the perfect option for you.
Embrace the history – Ever since your home was constructed, these floors have been an integral part of it, so if you're looking to honor the history behind your home, you may want to think about revealing its inner materials and celebrating its age with a modern subfloor refurbishment.
Salvage existing materials – If you're remodeling on a budget, salvaging your old wooden subfloor could be just the cost cut you've been looking for. Also, this practice is environmentally friendly. This floor has been beneath your kitchen since its inception, it has acclimated to the environment, and the older it gets the harder it gets, which can make it the perfect salvage opportunity that will allow you to allocate your resources elsewhere.
What should I consider before deciding to refurbish the kitchen subfloor?
Subfloors can be an excellent addition to your home if they fit in with the entire atmosphere you're aiming for. However, there are also some considerations to be made before you dive head-first into this kind of project. Here's what you should think about first.
Scratches and nicks – Some subfloors can be up to 100 years old, and they have definitely hardened over that much time. However, these floors are usually softwoods, which means they are more prone to dings and nicks. You can either incorporate a rug in the area or embrace the imperfections as a sign of character.
Transitions – Sometimes, the height of the subfloor is exactly lined with the height of the flooring that surrounds it, while, at other times, your contractors might need to create a transition. And not everybody likes a transition between floors of different heights.
Heat loss – You should not worry about experiencing any heat loss if you opt to keep the subflooring as your main floor. Your home's envelope will remain intact, but you can think about adding some insulation beneath it if the space is open to the environment.
Safety – A flooring professional is the person who should determine just how safe the subfloor is. If the subfloor is in excellent condition, and if there are no underlying structural concerns with using it as your finished floor, there are no additional permits for you to acquire and you can proceed with the refurbishment.
Lifespan and maintenance – If an experienced professional refurbishes your subfloor, they can last for as long as the house is still standing. You should take care of it as you would any other wood flooring, and you should have no problems making it last for a long time. 
Which kitchen remodel company in San Diego, CA can turn my kitchen upside-down?
If you'd like to get rid of those unappealing linoleum floors in your kitchen, and would like to do some extra work to really make it pop, you need the assistance of reliable kitchen remodeling contractors in San Diego. Luckily, you can always turn to Lars Remodeling & Design for help.
We are the leaders when it comes to providing an array of top-quality remodel & construction services all across San Diego and the nearby area. Plus, not only can we fully redecorate and remodel your kitchen, but we can also do an exceptional & complete remodeling of your bathroom. Contact us today for all your remodeling needs and wants.