How to Pick the Best Backsplash for a Kitchen Remodel?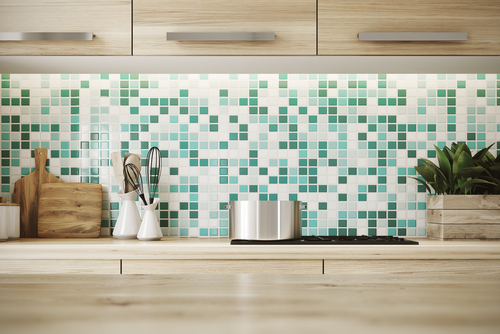 If you want to make your kitchen look trendy but at the same time not compromise on its functionality, contact a local kitchen remodeling contractor and schedule a consultation at your convenience. Your skilled kitchen remodeling experts from San Diego will help you maximize your kitchen space, select the best layout option, and assist you with organizing your kitchen cabinets, countertops, and appliances.
What's more, if you are not sure how to select the best backsplash for your kitchen, count on them to provide you with fresh ideas that will spark your imagination and inspire you to think creatively. Let's find out what the latest backsplash design trends are and how you can introduce them into your newly remodeled kitchen space.
What's trending in kitchen backsplashes?
These are some of the top trends in backsplash design that you may consider when remodeling your kitchen:
Tin walls
If you're looking for an affordable backsplash solution, tin walls might be a great idea. They are easy to install and clean, so you won't have to worry about their maintenance. What's more, the original, vintage look of tin walls will add warmth to the space and wow your guests.
Accent wall kitchen backsplash
You can install backsplash only in a few key areas in your kitchen instead of covering the entire wall between kitchen cabinets and countertops with it. This asymmetric look will add a casual and personalized touch to your kitchen design.
Ceiling-height backsplash
If you want to break the mold and create a unique kitchen design, instead of installing backsplash tiles just in the space between the countertops and the wall cabinetry, take them all the way to the ceiling. This can be an amazing solution, especially if you have open shelving that will accentuate the beauty of your backsplash and allow it to become the focal point of the kitchen.
Large tiles
While the usual size of backsplash tiles is 3" x 6", over the last couple of years, larger tiles have gained in popularity as well. They are commonly used in smaller kitchens because they can help create an illusion of spaciousness.
Mirrored finishes
If you want your kitchen backsplash to look glamorous and add a dramatic feel to the space, mirrored tiles are the way to go. They will reflect the light, making your kitchen appear larger and brighter. The maintenance on a mirrored backsplash may be more time consuming, but the stylish, unexpected look will definitely lend drama to the space.
Moroccan tiles
Want to add a splash of color to your kitchen? A Moroccan kitchen backsplash will undoubtedly get you there. The interesting patterns and vibrant colors of these tiles will invite an exotic vibe and break the monotony of the pastel color palette.
Should backsplash match cabinets?
Selecting complementary decor elements, in this case, matching the backsplash to your cabinetry, can contribute to a nice flow in the design. When properly combined, they will highlight each other, making the whole look more balanced and aesthetically pleasing.
This is also very important if you're planning to sell your house and want to increase its market value and attract more buyers who value a well-coordinated kitchen look. Feel free to play with different solutions until you find the one that really speaks to you.
Where to find the best kitchen remodeling contractor in San Diego & the area?
Right here in Kearny Mesa! Lars Remodeling & Design is a locally owned company with years of experience in the business. We stand behind numerous successful room and second story addition projects across San Diego County, as well as a variety of interior design projects, custom home builds, and similar.
So, if you're looking for a trustworthy kitchen remodeling contractor who will put you in the first place and do their best to turn your kitchen design vision into reality, look no further than Lars. Our amiable staff will introduce you to a versatile selection of kitchen appliances, furniture, backsplash designs, and assist you in making the right design choices. Visit our website for more information or schedule a consultation today!