4 Design Essentials for a Kid-Friendly Remodel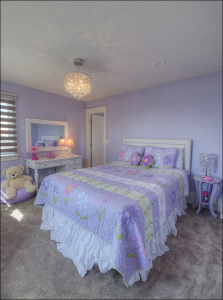 When you're deciding what features you'd like to include in your next home remodel, convenience and comfort probably dominate your wish list. If you have kids or you're planning on growing your family someday soon, don't forget to mix some kid-friendly features into your design-and-build remodeling plans.
1. Bedroom Buddies
Your kids probably spend a lot of time in their bedrooms. Customizing it to their size and style is a great way to help them feel comfortable and embrace their space.
•    Providing plenty of storage space for stuffed animals, clothes, collectibles and their favorite things will help them stay organized.
•    Choose features and pint-size furniture that are closer to the floor – just like they are.
•    If your children are sharing the room, make sure that each one has a distinct personal area of their own. Consider built-in seats below the windowsill and separate closets.
•    Lowered light switches, clothes closet bars and toy storage.
•    Take advantage of space under the bed or recessed into the walls, and make it functional space.
2. Family-Friendly Flooring
As much as beautiful flooring might hover near the top of your wish list, don't forget to ask your home remodeling contractor for recommendations on durable surfaces that are not only beautiful, but easy to clean.
•    Skip the white carpet and light-colored flooring tiles until they're old enough to appreciate it – and have fewer spills.
•    Look for stain-resistant features.
•    Area rugs are ideal for little ones who are crawling and toddling.
3. Fun Spaces
Liven things up with a themed bedroom or family room, and safe places for kids to play, indoors and out.
•    An entertainment center for games, movies and TV is always a hit with children. Use a dimmer switch to make lighting adjustments easy.
•    Magnetic paint underneath the topcoat on walls in the playroom encourages easy wall decorations – and it's much bigger than the traditional refrigerator art space.
•    Convert a loft or attic into a brightly-colored study space for school-age kids. This is ideal use of space that has low ceilings – something that kids consider cozy.
4.  Bathroom Basics
Whether your little ones have a bathroom of their own or share with the rest of the family, you need to make their daily routines easier.
•    Add low towel racks and bathrobe hooks that they can reach easily.
•    Put in hideaway step stools so they can reach the sink and faucet to brush their teeth and wash their hands. Incorporate these into the walls or vanity so that no one else will stumble over them.
•    Use fun colors and decor to make bath time and clean-up more appealing.
•    Put in easy-access shelves for their rubber ducks and bath toys to keep clutter to a minimum.
Talk to your home remodeling design-and-build team about adjustments that make sense for kids, but can be easily modified as your children grow. For more information about family-friendly home remodeling ideas, contact Lars Remodeling & Design today.