BATHROOM REMODELING: Dream or Nightmare?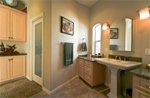 QUESTION: Why are there so many horror stories about bathroom renovations?
ANSWER: The main reason is that the bathroom is the room that people renovate most often. Secondly, they have to stand up to daily use, steam, water and mildew. But neither one of these is responsible for the nightmares many have experienced, heard about or watched on TV. This basically comes down to the fact that the renovation was done poorly. Quality workmanship is not optional.
QUESTION: What warning signs should you watch out for?
ANSWER: Don't be seduced by the contractor who tries to convince you that all you need is a modest face-lift. Though they may initially win your wallet, the cover up of underlying problems such as wet insulation, rotting drywall and code violating plumbing- will drain the bank before the job is done correctly. Reality check. If your house is over twenty years old, it needs more than a face-lift. Take the time to have a thorough inspection of what you have and what is needed. The rule of thumb for bathrooms is: if tiles need replaced, you've got problems that need looking into.
QUESTION: Without any previous experience, how can we tell the good contractors from those we should stay away from?
ANSWER: A good contractor provides quality input, when you meet to discuss your plans. The good ones will help you realize your dreams. The bad ones will merely take down your ideas, itemize the list, add prices and ask for your signature … and your cash. What you want is the contractor, who does a thorough inspection and demonstrates knowledge of what is needed and what the options are. Never assume that all contractors know the latest building technologies, products and code requirements. You want the industry leader not the follower.
QUESTION: What sorts of industry developments are worth consideration?
ANSWER: Anything to do with moisture. Drywall, for example, is just a wick for moisture, so you'll end up with unbelievable mold. Proper ventilation is not only the minimum building code – It is key to reducing moisture problems down the road. Find out what options are available today to properly ventilate your bathroom.
QUESTION: So how much should a full bathroom renovation cost?
ANSWER: There are too many variables to make a definitive answer to this question. At the end of the day, you have to know what you can afford and how that matches with what needs to be done. The right contractor can help you make an informed decision. Take the time to meet with qualified Contractors and discuss ideas and options. A true Remodeling professional will always look for what is best for you and them. A True remodeling professional will provide you with real information to help educate you on design options and cost. A true remodeling professional will inform you, not sell you.
QUESTION: What is the best advice for bathroom renovators to focus on?
ANSWER: From the outset you should be hyper-vigilant about quality. Start with your own planning and research. Seek out quality advice from expert sources. Don't settle for a fly by night contractors. Make sure everything is in writing. Be prepared to be your own quality control specialist. If you can do this, you can guarantee that your bathroom renovation will be a dream.