Not everyone has a window in their bathroom. Sometimes it's by preference, and sometimes it's by original design. Windows can add light and make your bathroom appear larger. They can also create discomfort when you're ready to take a shower and don't want the neighbors as an audience. Bathrooms surrounded by interior walls aren't candidates for a window, and some don't lend themselves to having enough wall space to add one into the design. As part of a
bathroom remodeling project
in your San Diego home, consider these ideas for this room without a window to enhance your space.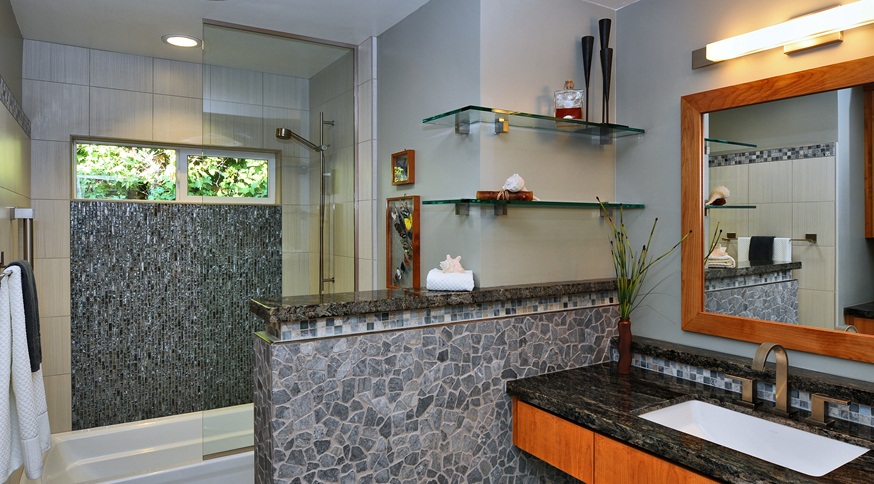 Space
Bathrooms without windows and natural lighting can sometimes look smaller. There are different ways to make your bathroom look larger, especially if you don't have a window.
Use frameless glass shower enclosures for your bathroom remodel. It makes the room feel more spacious while showcasing any listellos, mosaics or other patterned tiling inside the shower.
Decorate with lighter colors, using different shades within the same family.
Lighting
Without natural light, it's important to put ample lighting fixtures in the bathroom. Talk to your home remodeling designer about the best options for placement, style and color. Depending on the age of your home, you may need to rewire the lighting and the power outlets. If you still have fluorescent lighting designed in the '60s around your medicine cabinet in your bathroom, it's time for an upgrade. Build a night lite into the bathroom design, and consider using lighting motion sensors that automatically turn on when someone enters the room.
Creating Natural Light
If your bathroom doesn't have a window due to the original home design and you crave natural light, you have two options.
Put in a skylight or a tube skylight.
Have one or more windows installed on an exterior wall.
For more ideas for your bathroom remodeling project, visit our
photo gallery
.