kitchen remodel
you're probably debating whether an island would be beneficial to your new kitchen layout, or whether you should stick to a more open style. Here are the key points to consider when choosing your new kitchen layout:
Storage Needs
Islands offer a great way to add additional storage space to a kitchen. Perhaps you want to add extra cabinets, a dishwasher or even an additional fridge without making the rest of the kitchen feel cluttered; if so, an island offers a great solution. If you have a smaller sized room or odd wall layout you may also be able to meet your storage needs through a cleverly designed kitchen remodel that doesn't incorporate an island.
Space requirements
The biggest consideration when choosing an island vs. open kitchen is this: do you have enough space to include an island in your kitchen remodel? Islands can take up a lot of space. When deciding if you have enough room you not only have to consider the island's dimensions but also the free space needed around it to allow for easy navigation of your kitchen. Whether there is ample walkway space will help you decide if including an island is practical in your kitchen remodel. If your kitchen is small or has awkward dimensions you should consider a more open layout such as an L shape or horseshoe shape design. For help deciding if you have enough room for an island contact a Lars kitchen remodel expert today. You can put down a tape outline with the dimensions of the island you're looking to do to see if it fits in your space and you're able to comfortably navigate around your kitchen.
Kitchen Use
How you use your kitchen should influence your kitchen design choices. Kitchen islands provide a space for family and friends to socialize while the host prepares a meal or drinks. They bring an entertaining space directly into the kitchen, which some homeowners will love! However, if you prefer your kitchen to be a getaway space where you can prepare meals in peace you may prefer a design that limits through traffic or gathering spaces. Islands have a direct effect on the flow of traffic through your kitchen by creating a walkway. An L-shaped design that reduces walkthroughs but maintains an open style may appeal to the more private chef!
Counter Space
Counter space is often at a premium in kitchens and can be a driving force behind a kitchen remodel! We all know how frustrating it can be to not have enough food preparation space in a kitchen, and an island can be a great solution to this. If you don't have the space for an island, a good kitchen designer can help you maximize the available space in your kitchen to create as much counter space as possible. One option may be to keep a more open layout and add a peninsula instead of an island, which only requires space on three sides making it more suitable for smaller spaces.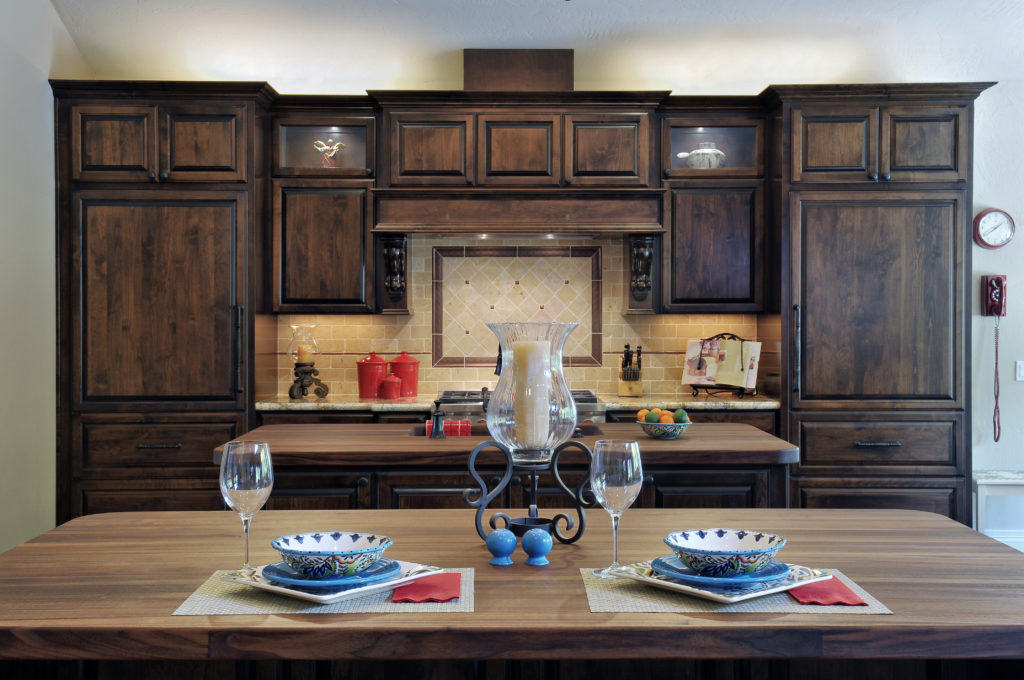 Both islands and more open kitchen styles have their pros and cons and it's important to determine which is the best fit for your home and lifestyle. When thinking about your kitchen remodel it's important to look at your whole home and how your new kitchen will fit into that space. Think

:

Do you want a kitchen that integrates openly into your living room

?

Or one that defines itself as its own space? Are you looking to match your existing house style or is this the start of a whole house remodel? What role does the kitchen play in your free time? Whatever your kitchen remodel needs,

Lars Remodeling & Design's Project Designer's

 are here to help you choose the best kitchen design for your home!

In the right kitchen, an island can be a practical and eye-catching addition to the design, but they don't work in every home! If you're considering a