Expand Your Living Space with an Outdoor Living Room
Where else but San Diego can you sit outside, virtually weather-and-bug-free, year round? With the hours San Diegan's spend outside, why shouldn't our yards become part of our daily living space?
Add a Room…Outside!
One of the latest and greatest trends in home remodeling is the outdoor living space. And we find this to be a perfect trend for Southern California. Your home's square footage is no longer confined to your four walls. Want more kitchen space? Step outside. Want a casual room to watch sports and drink a beer? Step outside! Virtually anything you can think of can be moved outside—and beautifully, we might add.
Being Comfortable at Home has Never Been So Important
Over the last two years, Americans have slowed travel plans and have increased their number of "staycations." This has led to an increase in home remodels, and a change in how we use our homes. Expanding outside has enabled many of our clients to build rooms with gourmet kitchens, flat screen TVs, pizza ovens, ice cream makers, heated towel racks for the pool, and more!
Get the Room You Always Dreamed Of…Without Breaking Down Walls
If someone told you that you could increase your living space without breaking down walls in your home, would you be interested? Well that is one of the major benefits to building an outdoor living area. Here are some more.
* Enjoy the outdoors year-round, not just during the summer
* It can be cheaper than adding that man cave or game room to the inside of your house
* Utilize space that previously might have gone largely unused
Plan an Easy Going, Comfortable Space
U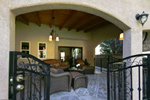 nlike the inside of your home, your outdoors doesn't have walls to divide up spaces for different purposes. You will have to design and divide from scratch. This is where you'll want to work with a designer. You can use natural materials to help define your outdoor room—but you'll want a nice balance between hardscape, plants, and furniture depending on the room you want to create.
Next Month's Topic: Our Top 7 Bathroom Remodeling Ideas for 2010