Home Theater Design Ideas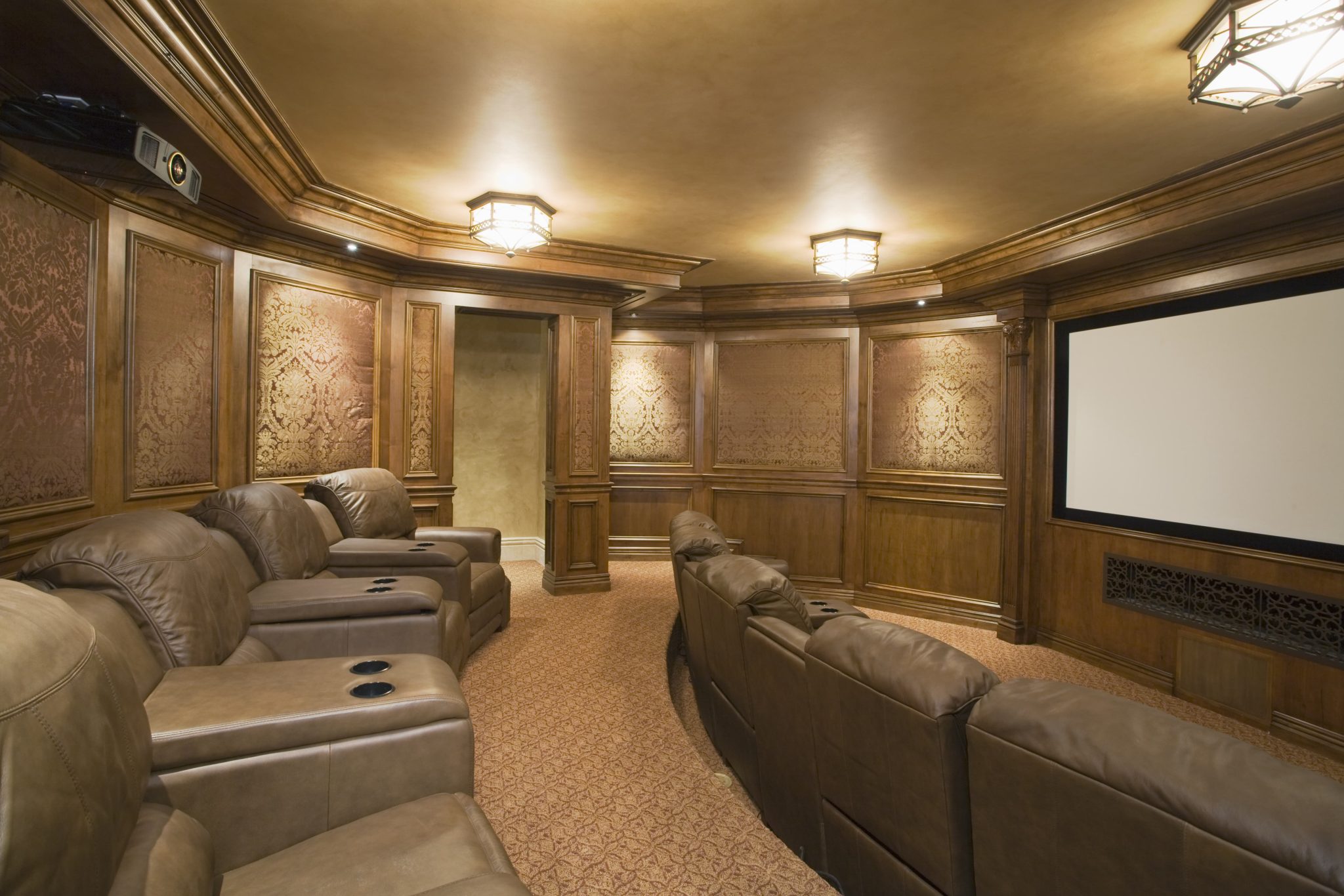 Would you like to bring that silver screen magic into your home? With refined looks, comfortable seating, a powerful sound system, and top-quality video, a home theater is a luxury most people wouldn't mind having. Enjoying such an immersive experience in the comfort of your home is a perk that's well-worth the investment.
Whether you'd like to convert an unused room or make the home theater a part of your San Diego second story addition, read on to learn some of the trendiest design ideas for this space. Soon you'll be able to have your friends over for a movie night and show off your amazing home theater!
How can I make a theater at home?
A home theater should be cozy and inviting as well as sophisticated and high-tech to answer the needs of a modern homeowner. Here are a few areas to pay attention to:
Video quality: To get the most out of your video system, choose the size and position of the screen carefully. Also, make sure that you have dimmer switches and blackout drapes so the lighting can be dimmed as needed.
Sound quality: Choose a powerful sound system to enjoy every note of your favorite movie soundtracks. This also means that you'll need to soundproof the space so that you keep the sound in. Acoustic boards are usually installed on the walls and floors are covered with thick carpeting.
Seating: The seating is another key component of a home theater. Seats can come in different styles and sizes, but it's important for them to be extra comfortable and appropriately placed so that everyone gets a good view of the screen.
Fully automated home theater systems: These cutting-edge solutions come with a universal remote and automation features that make sound, video, and lighting control extra convenient. They're becoming increasingly popular because they let you regulate different aspects of your experience with a click.
Appearance: Comfort is the name of the game, so everything about your home theater should contribute to a sense of coziness. Apart from being beautiful, plush carpets, fur pillows, and subdued light also create a relaxing, cocoon-like atmosphere.
What is the best color for a home theater room?
Whether you love the classic black and red, want to go for a sleek and modern monochrome, wish to introduce some rustic wood, or have another idea in mind, the color scheme of your home theater should reflect your taste.
Usually, homeowners choose darker color palettes, which reduce light reflection from the screen or projector. For example, you might want to consider burgundy, dark browns, charcoal grey, or black as your dominant wall color.
However there are no hard and fast rules here, so feel free to let your imagination run wild.
Which company in San Diego can build a great second story addition?
If you're after top-tier quality, Lars Remodeling & Design is the natural choice. We have been in the remodeling industry for more than three decades, consistently bringing quality to projects across San Diego County, including Carlsbad and the areas in the vicinity.
Contact us today and see your luxe home theater project unfold. Our team will hear out your ideas and make them into stunning designs. The construction team will work quickly and efficiently, causing as little disturbance to your household as possible.
Our team can also create a stimulating children's playroom, produce a unique home gym design, or upgrade your home with a game room – whatever your style and preferences, we'll find a way to match them as closely as possible. We'll make sure your property reaches its full potential!