How to Create a Remodel "Wish List"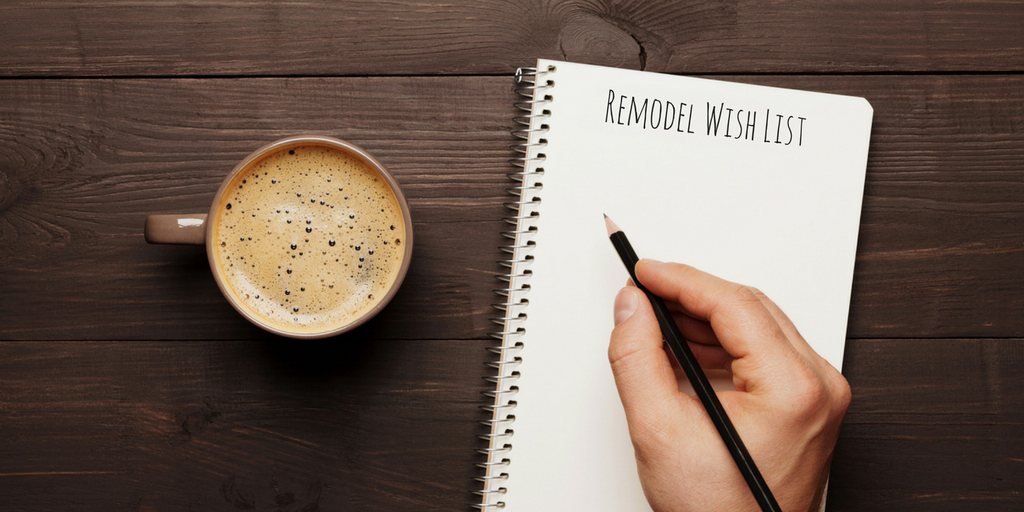 Planning a remodel can feel overwhelming, but, with a little preparation it's easy to bring your remodel dreams a few steps closer to completion. A great place to start is with a remodel wish list. A remodel wish list is exactly what it sounds like: a list of everything you'd like to change in your home. It can include additions, upgrades, renovations, and even specific features like your dream bathtub. We've created a list of 6 easy steps to help you create your remodel wish list:
Think about your long-term plans for your home
This is a key step in your remodel considerations. What are your plans for your current home? Do you plan to live their long-term or are you thinking about selling your house within a few years? The future of your current home should be your starting point for your remodel considerations to ensure that you get the most value out of your property. The key word here is value, if you're planning to live in your house for many years to come then the value will be in creating a space that fits your family's needs. If you plan on selling your home in the near future then the value will be in creating a property that increases in monetary value. Your remodel plans should be based on your long-term goal, not just immediate needs.
Start with the big items
Smart remodel wish lists begin with the big items such as room additions, kitchen remodels, bathroom updates, and outdoor living space renovations. Starting with big remodel considerations helps you create a big picture idea of the work you'd like to do on your property before you get bogged down in the details.
Prioritize the big items
Every remodel needs a starting point! There are many influences on home remodel considerations. When you look at your list of potential projects it pays to prioritize needs over wants. Think about what room of your home has the most problems. Problems could include an impractical layout, broken integral items, has weekly maintenance to function, or perhaps it just doesn't fit your family's needs. Start with the project that is most urgent, and then number the other projects on the list in order of priority.
Get detailed
Now that you have a starting point it's time to get detailed with your remodel considerations. This is the fun bit! There are many components to a remodel from flooring to finishing touches. So for example, if you were planning a kitchen remodel you could list all of your dream features in your wish list such as marble counter tops, a wine fridge, top of the range appliances, and a kitchen island. A great place to look for inspiration is on Houzz. They also have fantastic project management features that allow you to create projects and search for your dream fixtures and fittings, making it easy to manage you remodel wish list!
Prioritize the little things
Now that you've created a detailed list of all of your desired items for each remodel project it's time to prioritize the little things. A great way to do this is to think about whether they are must-haves or nice-to-haves. Label your needed items one color and your desired items a different color, that way if you need to sacrifice items to fit the design or budget you'll know which items are negotiable.
For help with your remodel considerations contact Lars Remodeling & Design today. Our team of designers and craftsmen are here to help turn your wish list into reality.