How to Incorporate Different Materials and Textures into Your Kitchen
Is there any room in your home that has as many functions and gets as much use as the kitchen does? In most homes, probably not. The kitchen seems to be the heart of most homes; that is why giving it a makeover to help it look its best, as well as remain functional, can be an excellent choice. If you decide that a kitchen renovation makes sense for you, we've put together a few ways that you can use textures and different materials in this room. Consider adding one or more of these elements to give your kitchen a unique look AND feel.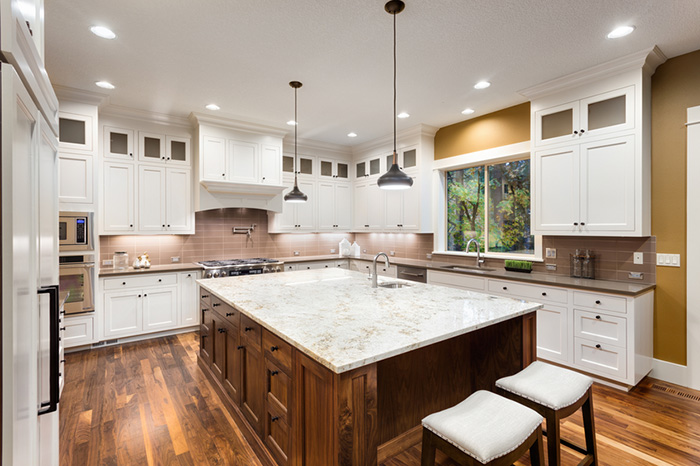 Textured Workspaces – Whether your workspace is a traditional island, a designated area of countertop or a pull-out section of counter, choosing a textured, natural material for this area makes perfect sense. Reclaimed wood, for instance, is incredibly tactile—even if it will require a bit more maintenance. Granite or cement will still have minor maintenance but have that smooth, sleek, modern look and still have a great feel too.
The Backsplash – No other space is better to add texture than the backsplash. Here, you can use wood, glass, mirror, granite or nearly any surface with ease. Even if you want to go all out and try a mosaic, the backsplash is the perfect place to do it.
The Floor – Even if you go smooth and sleek everywhere else in your kitchen, choosing a reclaimed hardwood floor can add a bit of texture and a rustic appearance to a modern kitchen. Don't feel like you have to stick with wood to have texture in a kitchen either. Many tiles are very tactile too. Today, there are more options than ever when it comes to floors; let looks and feel guide you.
Walls – Stucco, brick, rock, wood—what options fit in with your dream kitchen? Plain walls are fine, but a textured wall, even if used in just accent areas, are perfect in the kitchen. Utilize all texture as a decorating element as well as a necessity and you'll save money too.
Don't Be Afraid to Mix Metals – While Stainless Steel used to be the metal of choice, copper and chrome are all popular too. In certain cases, these can look great when paired together. Properly done, dissimilar metals can look sharp and add a subtle change of pace to your kitchen.
As you can see, there are numerous ways you can add texture and material options to your kitchen. It all comes down to determining exactly what you're looking for in this room. If you would like to talk to a design expert, contact us at Lars Remodeling. We would love to chat with you about your San Diego kitchen remodeling needs and help you pick the perfect textures for your next project.