Incorporating Different Textures In Your Bathroom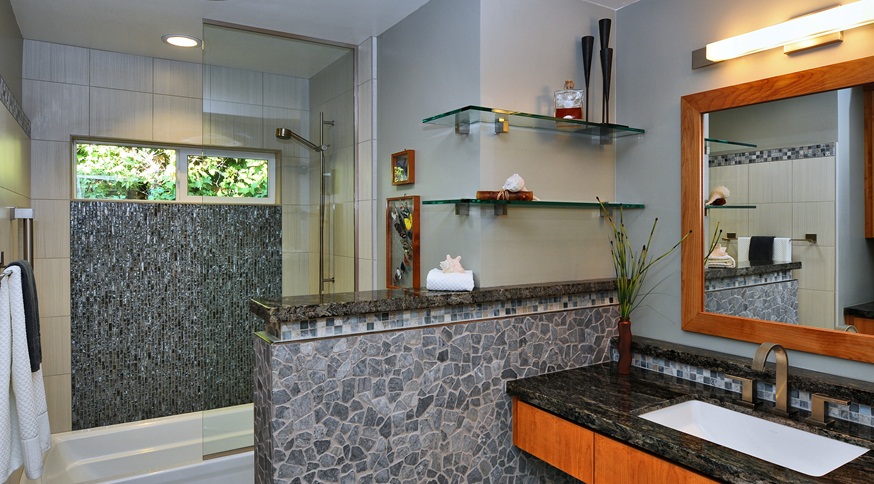 Are you interested in creating a new look and feel for your bathroom? As one of the most highly trafficked areas in your home, it makes sense to upgrade the bathroom so you and your loved ones don't get bored with its appearance.
Starting your day in a drab, lackluster bathroom can put a damper on your mood, but when your surroundings are more pleasant and appealing, you can find yourself energized and ready to take on the world. How about adding some texture to the mix? Doing so will give the bathroom a new style and ambiance that will please you and your guests.
With that in mind, here are some ways where you can incorporate different textures in your bathroom.
Floor
Here, adding some texture is good not only from an interior design perspective but also for its safety aspect. For example, you can put in ceramic tile flooring and the material will have some texture to keep people from slipping. Sandblasted natural stone and natural stone that has been honed (it is ground to give it a flat surface but in this case should not be of the polished variety) will also give your feet some added traction.
Or, consider putting in a wooden hardwood floor that has been sealed to keep moisture from damaging the material.
How about carpeting? While carpeting the entire bathroom floor can be problematic, you can install carpet tiles to serve as a transitional area from the hallway to the main bathroom interior. Or, add area rugs, which you can clean on a periodic basis for easy upkeep.
The floor of the shower itself is another area that is ripe for different textures. One obvious solution is to add some textured safety material, such as a pad that is removable for easy washing and stays stuck to the surface with its octopus-like suction cups. Or, you could opt for a floor made of smoothed pebbles, which will feel great in bare feet.
Walls
Cover an entire wall with mirrors to give your bathroom a new texture while also giving it the illusion of being twice as large. You can also get a better look to see how your exercise program is going or to check all details of your outfit at once.
For a more organic feel and texture, you can't go wrong with bamboo wallpaper.
Countertop
The countertop must be strong and substantial since it will get a daily workout. You have a number of choices that will give you just the look and feel you desire, ranging from granite and marble to composite materials, laminates or even engineered stone.
Stones like granite and marble are available in many colors, so you bring a touch of gold, green or blue to the bathroom, for example.
Accessories
A wooden, plastic or steel trashcan will fit in nicely and add additional splashes of texture. If your family keeps laundry hampers in the bathrooms for convenience, you could get some made of rattan or plastic.
Shelving can come in the form of glass, metal or wood and will provide additional textural contrasts to the rest of the bathroom.
It's clear that making a few simple changes in your bathroom with the addition of different texture elements will improve the appearance and create an enjoyable atmosphere for your family and guests. The friendly professionals at Lars Remodeling have been assisting homeowners in the greater San Diego for 25 years now with all their bathroom remodeling needs. For more information on adding new texture to your bathroom or to get help with a new project, please contact Lars Remodeling today.