Lars Remodeling & Design Has Received GuildQuality's 2015 Guildmaster Award for Exceptional Customer Service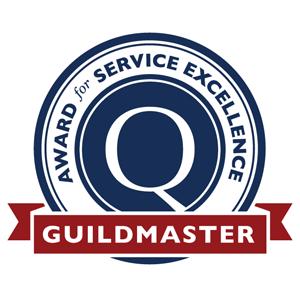 Lars has been recognized among North America's best customer service leaders within the residential construction industry by GuildQuality, an independent customer satisfaction surveying company. GuildQuality has powered the Guildmaster Award for 10 years to celebrate service excellence in the building, remodeling, contracting, and home services professions. Each year, GuildQuality gives special recognition to the companies that demonstrate an ability to deliver a consistently superior customer experience.
GuildQuality reviewed numerous survey responses submitted by customers of Guildmaster candidates. In granting awards, GuildQuality considers two primary metrics for each candidate: the percentage of customers who would recommend and the percentage of customers who responded. Lars Remodeling & Design achieved a recommendation rate of greater than 90% from their customers, who were surveyed through GuildQuality.
Lars is honored to be recognized with this distinction. We are dedicated to service excellence, convenience and place high value on open client communication and education. We take pride in knowing that our customer experience is top notch and thank our clients for their feedback and our team for continuing to make Lars Remodeling & Design a name synonymous with high quality work and excellent customer service.
Our goal is to make your remodeling experience as enjoyable as possible. Experience the Lars difference and contact us today to discuss the details of your next home remodeling design and construction project.