Luxury Bathroom Amenities
It's a natural fact that luxury bathroom amenities are going to leave you a lasting feeling of royalty. If you are looking for some high-end additions to your bathroom, start here.
His and Hers Sinks
No matter your relationship with your partner, personal space is a gift for the both of you. His and hers sinks give a person a place to store their own makeup or shaving kit, and allow two partners to peacefully brush their teeth at the same time. Plus, your partner's habit of hogging the sink is a problem of the past.
Mosaic Detailing
Mosaic detailing in a bathroom is unexpected and stunning. Adding it to a bathtub, wall, or sink introduces the whimsy, romance, or tranquility you always wanted. It is a simple yet powerful work of art, completely transforming an otherwise ordinary-looking space into a bathroom straight out of a castle or a Zen refuge.
Fancy Showers
The best thoughts are born in showers. A good, hot shower will wake up the groggiest of early-risers and loosen up the most stressed-out of parents and workers. If showering is one of your favorite parts of the day, it can get even better with luxury amenities.
First, you needn't settle for a shower head you don't love. There are many shower heads that maximize the shower experience, such as rainfall-style heads. The right detachable shower head can be pretty perfect too. And, once you try multiple shower heads, you will never go back. They can give you a luxurious rinse at different angles and revolutionize showering with a partner. The shower's potential for luxury doesn't stop there. Showers can easily be expanded to allow more space, and you can add a comfortable in-shower bench. Durable and gorgeous shower floor tile is invaluable.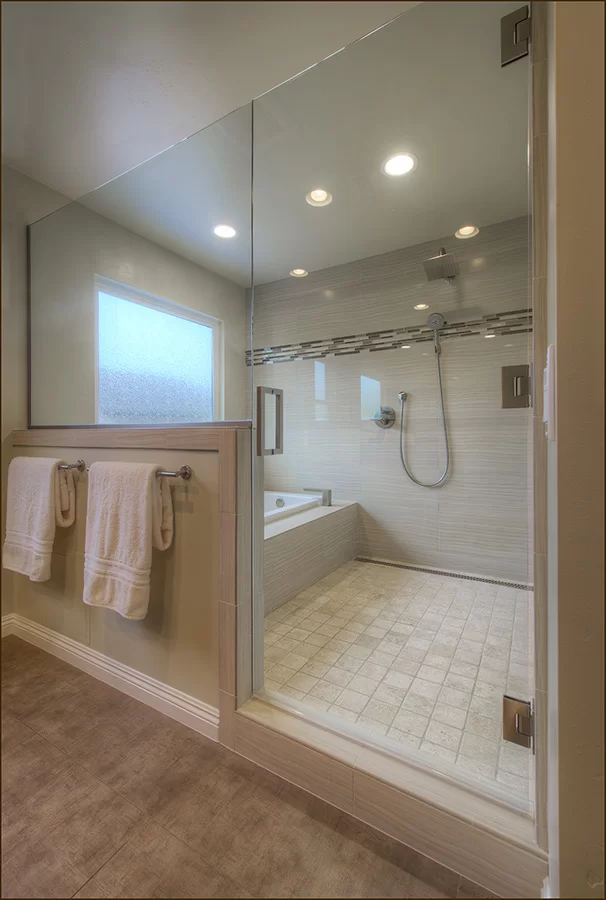 In-Mirror Television
In-mirror television is the epitome of indulgence and relaxation. An astonishingly high-definition television can be fitted to appear inside your bathroom mirror when it is turned on. It may seem slightly superfluous at first glance, but give it some thought. If nothing else, it's way better than a stack of magazines as far as bathroom entertainment options. Imagine yourself unwinding from the day by watching the game or settling in for an episode or three of your favorite show—in the bathtub, with a drink in hand, and a lovely scented candle on the counter. Once you install an in-mirror television, you'll wonder how you ever did without.
Seating
Yes, putting a chaise lounge or an ottoman in your bathroom is perhaps a little unusual. On the other hand, you are likely to find yourself sprawling on your lovely seating, basking in the steam after a shower while waiting for a face mask to soak in, and you're going to love it intensely. If you need a perch to paint your toe nails, somewhere to lay out an outfit, or just a touch of luxury comfort in your bathroom, adding some seating is a great way to go.
Linens
Bathroom linens are constantly overlooked. A beautiful, quality shower curtain and set of towels are indulgences for sure, but they make all the difference between an ordinary bathroom and a private heaven.
Luxury amenities aren't limited to the kitchen or the living room. If you're ready to take your bathroom to the next level, consider some of the above luxury bathroom amenities.