Remodeling Now: Prioritize Your Projects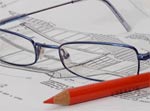 If you are a homeowner wondering what the options are for you in today's real estate market, you are not alone. Have you noticed the price range of new houses that are being built? Builders are adjusting to the market and there are only so many ways to bring new homes on line at lower prices. One option is to reduce the size of the home. Have you been surprised that many newly built homes have less square footage than yours? And there are less of them. These are great reasons for you to consider a remodeling project. In this final part of our four part series on "Remodeling Now" we assume that you have decided to remodel. You have chosen a contractor. It is time to prioritize your project.
There are many items to consider. Here are 10 to get you started.
Pick Energy Efficiency First –With the rising costs of heating or cooling your home, the best place to start might be making your home more energy efficient. The U.S. Department of Energy says one-third of a home's air leakage comes from the walls, floors and ceilings. If we are going to meet the nation's energy goals, we have to continuously search for ways to improve the residential built environment. Maximizing energy efficiency in existing housing may be one of our greatest challenges, but also one of our greatest opportunities, given that homes account for almost a quarter of energy consumption in our economy.
 The Importance of Maintenance needed repairs and upgrades. Replace siding to fix drafts or repair the roof to stop leaks. Smart maintenance ranges from replacing the HVAC system to improve heating and cooling to fixing plumbing. Consistent home maintenance raises the value of your home, but even more importantly it keeps your home functional and comfortable.
 Usability is Key – The days of grandiose projects that emphasize the "wow" factor over functionality are coming to an end. In their place are remodeling projects that make an art of providing spaces that are not only attractive but usable. With the aging boomer population, there is also a focus on upgrades that make it possible to age in place.
Kitchens are at the Heart – As the hub of a functional home, kitchens are always a prime remodel area. The huge mega kitchens of the past have been replaced by many simply upgrading islands, appliances and making the kitchen and den into one big room. No more walk in refrigerators and fancy wine vaults. Installing a new stove, replacing countertops, or replacing your refrigerator can improve the function of your kitchen. Remodelers also can help improve work flow in your kitchen with more open spaces and strategic placement of appliances.
Green Upgrades – Energy efficiency, whether you mean insulation in the walls or attic, or new energy efficient heating, cooling or hot-water heaters, many are focusing on green upgrades, to save on utility bills. Plus the tax breaks make this more attractive. A home can be considered green when energy efficiency, water and resource conservation, the use of sustainable or recycled products, and indoor air quality considerations are incorporated into the process of home remodeling. Professional remodelers increasingly incorporate energy-efficiency and long-life products into their business. Home owners save money by improving the efficiency of their home, but using recycled materials and hearty products will also save resources.
 Baths – Remodel now to enjoy a luxurious bathroom. With all the practical considerations taken care of, every homeowner appreciates the value of a well-appointed bathroom. The bathroom is a place to get away, relax and pamper oneself. Beyond daily grooming, bathrooms reinvigorate with spa bathtubs, massaging showers, vanities and other amenities. Create the refuel you need at the end of a busy day. Just adding new cabinets, sink, flooring or tub can revitalize the bathroom and make it a quiet refuge for pampering.
Modernize – Remodel now to modernize your home. Perhaps it was that moment you realized that avocado and green and harvest gold are no longer the "in" colors for today's trendy kitchen that you thought about remodeling. Replacing cabinets, fixtures, repainting and installing new countertops all help to update your home for a contemporary look.
Home Offices from Bedrooms – Many laid off from their former jobs are doing more work from home, both online and contract work. Putting in a desk, improving electrical, internet capability and cabinets/files can be an inexpensive way to work more efficiently from home.
Curb Appeal – Home improvement projects help maintain and increase the value of your home. But considering the external appearance of your home is also important in improving the value and sales potential. New siding, fresh paint, clean gutters, neat landscaping and an intact roof enhance the curb appeal of your home.
Outdoor Living and Entertaining –Expand the capacity of your home by adding a deck, patio, or other outdoor living space. You'll have more room to entertain friends and be able to enjoy outdoor relaxation while in the comfort of your home.
In a market with declining home values, home improvements are a good way to protect the value of your home and position it as a good value when it's time to sell. By prioritizing your projects, your home investment will continue to grow while you enjoy living with the results.