Renovate to Rejuvenate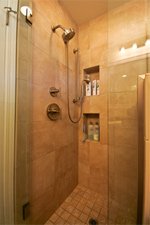 So you are contemplating the pros and cons of remodeling your bathroom. Perhaps the first change you will have to make when considering a bath renovation is a change in the way you think about the room itself. In today's market you need more than just the most bang for your remodeling buck you need form, function and fashion. If you are going to part with your money, you want to elevate the bathroom from merely a utility room to a relaxing spa. Perhaps you're thinking about indulging in fewer trips and plan to enjoy a stay-cation until the economy takes a positive turn. In this case, you're thinking your bathroom should be your personal sanctuary.
First let's double-check whether your bath needs remodeling. Take a look at your current facility and answer these questions honestly.
* Do you see pink, blue or avocado tiles and fixtures?
* Is the total square footage less than 40 square feet?
* Is your favorite bathroom, one you stayed in on vacation?
* Do restaurant washrooms have better fixtures than yours?
If you answered yes to any of these questions, be assured that you need a bath remodeling. Sure you can wait for real estate and the economy to make a magical recovery, but in the meantime, you're investment dollars are literally going down the drain.
IT'S ALL ABOUT THEM
If you are definitely going to be selling your home, look at your bathroom through the eyes of prospective buyers. You may be looking at a working couple, in which case a retreat becomes most important. At the end of a hard day, bathrooms are all about escape. You can't lock the kitchen, but you can lock the bathroom door. Serenity is the goal.
IT'S ALL ABOUT YOU
If you are planning to stay in your house for a definite amount of time, the focus shifts to you. A quick fix is short-lived and probably lacks the quality for the long term. Next to the kitchen, this room gets the most daily use. It is an opportunity to do something for yourself.
* Personal Haven
* Shiny and New
* Remodeled! Refurbished!
* It's all about You!
ORDER OF THE BATH MUST HAVES
It's time to take the plunge. Here are a few ways to make your space more rewarding for yourself today and a good investment for tomorrow.
* WATER WORLD
Every key feature in the bathroom is based on water. It's clean, it's refreshing and it sounds hypnotic. The more ways you can find to soothe your senses with water the more wonderful you bath world will be. It might be a soaking tub. Perhaps a two-person shower. Regardless, plan for water features that salve your spirit.
* READING ROOM
Your perfect relaxation may involve reading. Make sure your bath retreat can accommodate an armchair, loveseat or ottoman. This simple consideration will mean that your bathroom moves bean mere utility to retreat.
* PERSONAL SPA
As you plan to take your remodeled bath to the next level, it might actually involve re-creating one or more features of a spa you have been to. Remember the tranquility you felt and what it was that made you feel so pampered. Was it a special tub or a shower with multiple settings and jets? Perhaps it's a simple as including a beverage fridge or the perfectly placed flat screen television. Ahhh-some!
* SOUND and LIGHT
Of course, we all know how the proper lighting can change the mood of a room. Dimmers are a must-have. It is also a good idea to consider sconces, table lamps or the perfect floor lamp. Finish up with piped in music at the touch of a fingertip and your getaway is complete.
Your perfect personal bathroom remodel can range from simple updates to detailed reconstruction. It`s a remodel that enjoys one of the highest returns on your investment. The win-win is that it also provides you with the highest personal rejuvenation.