RENOVATION – A PLACE FOR EVERYTHING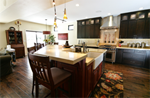 HOW MUCH DOES CHAOS COST?
It would be interesting to know how many hours of each day are spent putting things in their proper places. Wouldn't it be wonderful having entire weekends ahead of us, without the interruption of piled this, accumulated that and other bits and pieces that, in one way or another, keep us from enjoying our surroundings. It is amazing how disrupting accumulated clutter can be. It steals time away from fun activities with our family and, in one way or another, costs money.
From Piles to Home Office
Whether it is in the kitchen, a hallway a bedroom or even an entry, having a designated desk area can turn a small space into an efficient and elegant home office. Careful consideration of your specific requirements can promote, not hamper, productivity and will keep papers from piling up in disorganized places which you may find hard to access, or even remember, when the pressure is on.
From Catch All to Store All
In every active family, the odds are high that entries are piled high with the sports equipment, clothes, footwear and other gear that supports their varied interests and hobbies. Start by counting the number of shoes and coats each family member has and allocate adequate storage. Closed cabinets or built in armoires keep out-of-season items out of sight. Don't overlook hooks and a special cupboard for items relating to the leashes and food needed by family pets. For small children, design a cubby with both low hooks and a higher rod that they can easily reach on their own. Incorporate extra storage for the use of guests, aging parents or more children.
Special Design Considerations
Select materials for floors and walls that don't show dirt or scuffs. For example, flagstone is non-slip and resistant to water and salt stains. Cabinetry that already has a distressed finish will only be enhanced by wear and tear. Perhaps the best Reno would start with a larger door that can accommodate in and out passage of bulky equipment. Of course, always allow for open floor space inside the door that you use when bringing in groceries.
Companion Unit
In most cities, new building codes are now allowing detached companion units to be built. A special place to host cocktail parties and summer get-togethers. Maybe a sleepover place for visiting guests or a games and hobby room designed to deal with specific interests of young family members. It is a very creative solution when the time comes to move in family members or create that separate office or art studio. Here are other options for the use of a companion unit.
A photography darkroom
A home office
A guest house
A nanny flat
A games room
Storage for a large collection
Instant room, just add the floor
Many two story homes located in San Diego come designed with very high, vaulted ceilings. This space usually gives the living room or dining room a more open felling but other than that the space is totally useless. Not to mention this ceiling area must be heated and cooled all year long. Why not add in a new floor to convert that space into a loft accessed off of the second floor? This space can be used as a bedroom, office or play area for the kids. In most cases, no change to the existing roof is required which saves thousands of dollars in construction costs and shaves months off of the construction time line.
FROM TOPPLING STACKS TO COZY LIBRARY
Take one long wall and install built in shelves. Consider building the shelves over and around windows and doors. You will be amazed at how many books and collectibles now have proper storage. Accessibility will be one hundred percent improved. It is a good idea to include closed storage where you can selectively maintain items that don't need to be on daily display.
STORAGE TOP TO BOTTOM
Perhaps you need to think bigger than a one-room solution for your storage problems. If your house is overflowing, almost every room from bedrooms to the family room and even attic or basement areas can benefit from accommodation for books, linens, clothing, audiovisual equipment and various objects.
CAUTION: AIM FOR BALANCE
You can have too many built-ins. This is where professional advice can help you to find a comfortable balance between furniture, what you require for storage, and what the architecture will allow for storage. In the rush to instil order don't go overboard with built-ins. In a year or two, you may acquire new furniture or art that begs for wall space.
With thoughtful planning, even a house drowning in stuff, can be a home where there isn't a thing out of place.