Ultimate Guide to a Stunning Remodel: Countertops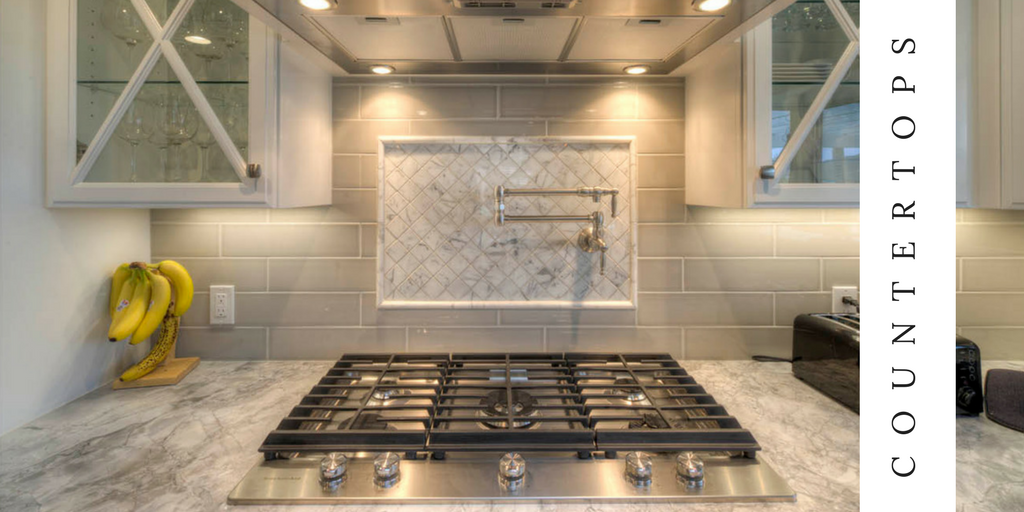 Countertops are a key part of any kitchen remodel playing not just a practical role but also helping create the look and feel for your newly remodeled room. The number of available materials might surprise you, use our guide to find the perfect countertops for your kitchen remodel.
How is your kitchen used?
The first step to choosing the countertop for your kitchen remodel is to think about how your kitchen will be used. If you're an avid chef, have children, or expect your countertops to get a lot use then you should choose a counter material that can stand up to the wear and tear of every day use. If however, you only expect your countertops to be lightly used your options are much more open. Another important consideration is the maintenance you're willing to put into keeping your countertops looking at their best. Some materials such as concrete or marble need frequent routine care to keep the surface sealed, and the material in good condition where as other materials require little to no maintenance. Choose a material that's suited to your kitchen's use!
What's your budget?
Your budget will play a large part in defining your countertop options. Whether you're looking to create your dream kitchen or are remodeling to make a more functional space there are options to fit any budget. Some of the more affordable options are hardwearing and can mimic natural materials such as marble. However, if your budget is a little larger you may want to consider more natural options like granite or quartz, which give kitchens a more high quality finish. Whatever your budget there is a countertop material to fit your needs.
Choose the material
There is a huge range of materials, both natural and manmade, that can be used to create kitchen counters. We've highlighted some of the most popular options below. Each offers a unique combination of appearance, durability, and cost—take these into account when narrowing down your options.
Laminate
Laminate has been used for decades to mimic other more expensive surfaces and is perhaps the cheapest option available to kitchen remodelers. It's affordable, easy to care for, and also lightweight so you won't need extra support to hold the counters. On the downside it can be easy to scratch and is almost impossible to repair. If you're looking for a high quality finish or want an under mount sink this isn't the right choice for you.
Tile
Tile is a traditional option that is a cost effective choice for any home. One of the great things about tile is the sheer range of options available. It's also strong, heat-resistant, and easy to repair. It is however prone to grout stains. Choose tile for an affordable option that will fit a wide range of kitchen styles.
Quartz
Quartz is growing in popularity due to its hardwearing properties and affordability. Quartz counters are made from quartz chips and resin to create a strong material that is uniform in appearance, which may either be a positive or negative depending on the character you are looking for in your countertops! As this is a manmade product there is a huge range of colors and styles available and it is designed to offer a lower maintenance choice than natural stone materials. There are affordable quartz countertops options available but keep in mind high quality quartz counters can be on the higher end of your budget.
Butcher-block
Butcher-block counters offer perhaps the most classical look of any material on this list. They provide a stunning addition to traditional style kitchens and the natural variations in the wood develop character with natural wear and tear. One of the great things about butcher block surfaces is their durability—they can be oiled to maintain the surface seal or completely refinished if you'd like to strip your counters back to their newly installed look.
Solid Surfacing
Solid surface counters are made from resin and mineral dust, which makes them a strong alternative to quartz. In fact, they're currently one of the most popular counter choices. What makes solid surface a great choice is that they offer many benefits including extensive choice, a non-porous surface that requires no maintenance, and seamless installation. Although they are generally very hard wearing they can be scratched or burned. Just like quartz, solid surface can look manufactured due to the lack of natural character in the pattern.
Marble
Marble is perhaps the most luxurious countertop option. It's renowned for its natural veining that gives each piece a unique look. One of the most interesting facts about marble is that it stays cool, making it a great choice for people who like to bake. The downside to marble, in addition to it's cost, is that it's prone to staining, scratching, and chipping.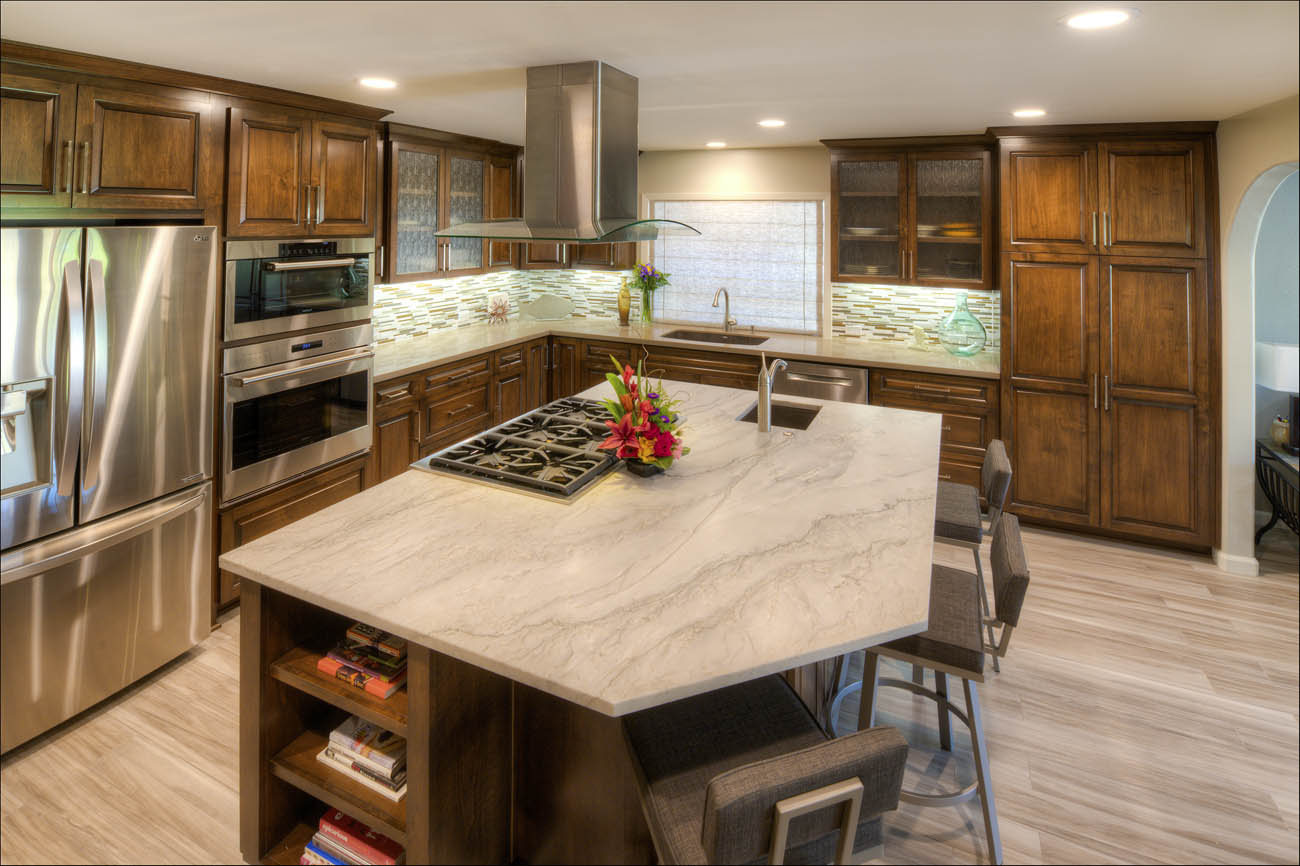 Soapstone
Soapstone offers a natural softness that can give a unique look to any kitchen, especially as the pale grey tone darkens with age. The downside to this soft finish is that it can feel rough to the touch and it needs frequent polishing to keep the surface smooth. As a natural product it's also susceptible to cracks and other damage. Soapstone is a stunning but expensive option.
Paper composite
These counters are eco-friendly and durable as they are made from recycled paper and resin. Although they are hardwearing they do require maintenance with an oil rub to reseal the surface. They can also be rubbed down to remove any scratches. Paper composite counters give a modern look but can be costly.
Granite
Granite is still one of the most popular choices for countertops. This natural product looks stunning in any kitchen and provides a durable option for most kitchen use. It is susceptible to staining so will need frequent maintenance to maintain its natural beauty. Granite is expensive but costs can be reduced if you're willing to opt for a thinner counter.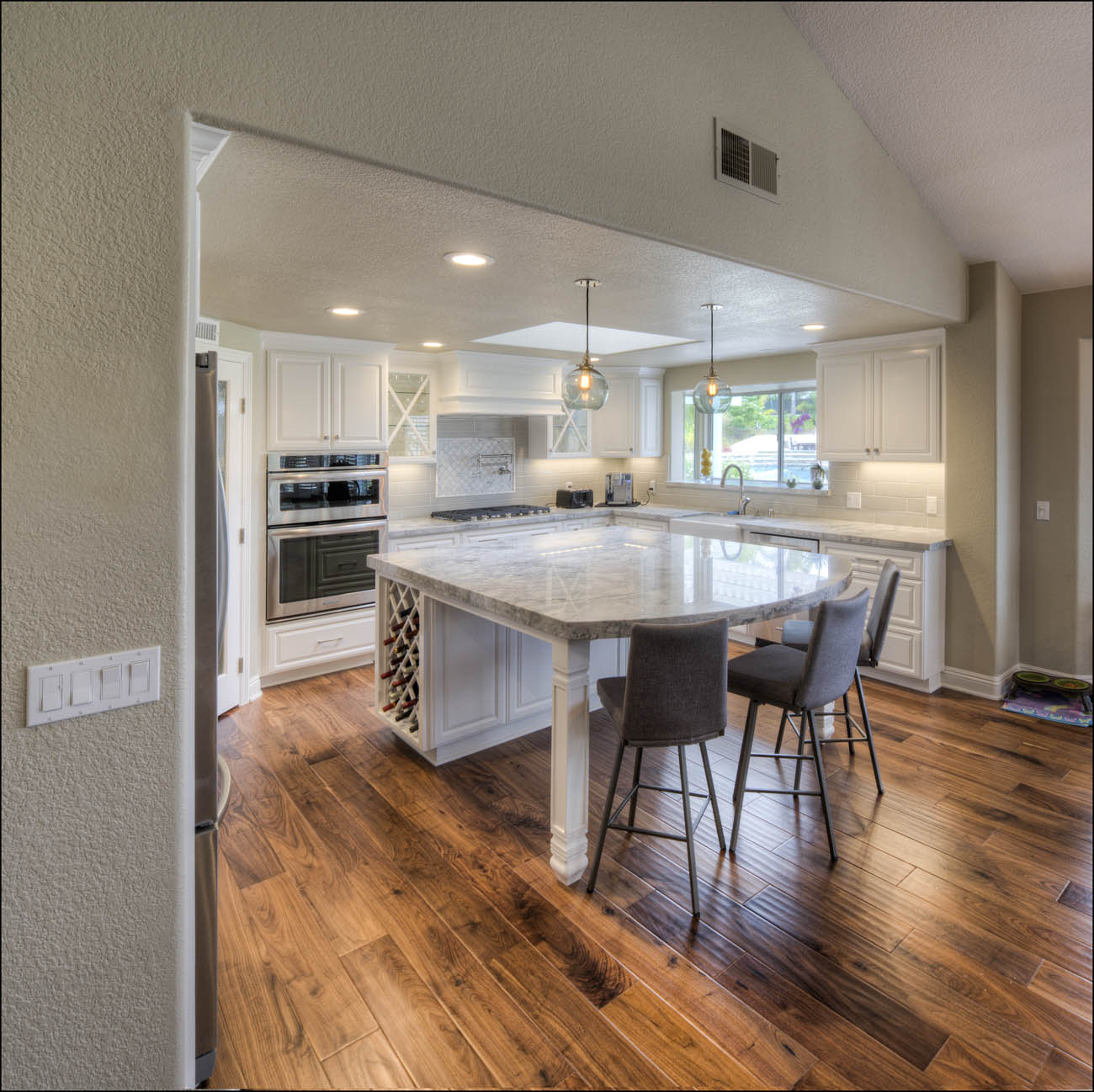 Stainless steel
Stainless steel has been the popular choice in commercial kitchen for decades. The manufactured look and feel of steel doesn't suit every home but can be a great style statement in a modern kitchen. As most of these counters are custom produced they can be very expensive and although they are low maintenance even the slightest mark on the surface will stand out!
See your options in real life
Photographs can never truly represent what a material will look like as a real life countertop. Viewing samples of the available options can help you find the product that provides the best look and feel for your kitchen. This is especially true for natural products that have variations in colors and patterns. Visit a kitchen show room so you can see and feel each material and fully explore your options. Download our free remodeling guide for more great advice on remodeling your home!