Ultimate Guide To a Stunning Remodel: Kitchen Cabinets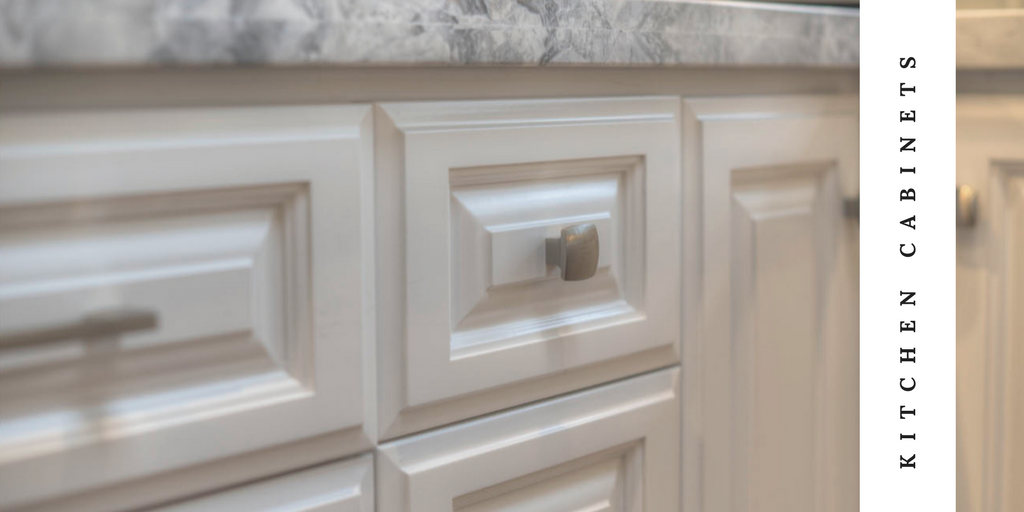 Choosing kitchen cabinets is one of the most important decisions you'll make when it comes to planning your kitchen remodel. Kitchen cabinets set the style and feel for the whole kitchen but the amount of choices you need to make to settle on your ideal cabinets can feel overwhelming. Lars Remodeling & Design is here to help. We've put together the ultimate guide to choosing kitchen cabinets to help you through the available options including cabinet bases, door materials, door styles, fixtures, fittings, and additional features.
When Deciding on Kitchen Cabinets Start With a Layout
Before choosing your kitchen cabinets you should have a clear plan for the layout of your new kitchen. Having a shopping list of needed cabinet components will help you identify which options are suitable for your kitchen's design. Key things to consider:
Are your cabinets standard sizes or will they need to be custom built?
Do you have a vision for the finished look of your kitchen?
What's your budget?
What level of finish do you want for your kitchen (basic, mid-range, or luxury)?
Let's Start With Kitchen Cabinet Quality and Design
Although this might seem like a great area to save money as most of the cabinet won't be visible, especially in more modern styles, it's important to remember that the cabinets themselves provide the functional foundation for the kitchen. You should choose kitchen cabinets that will provide a solid and practical base for the life of the kitchen. One of the most important distinctions when choosing cabinets is understanding the difference between stock, semi-custom, and fully custom cabinets:
Stock: only available in standard sizes
Semi-custom: some dimensions of the cabinets can be altered such as depth
Custom: the cabinets are built to custom specifications to fit your kitchen's design
Your kitchen design will determine which of these options is available to you. If your design includes cabinets that are non-standard sizes you'll be limited to semi-custom and custom cabinetry, which can be more expensive. However, all of these types of cabinets are available in different quality levels, so you can get the quality you want for your kitchen. Be sure to discuss your options with your designer to ensure that you get cabinets that meet your desired balance between budget and quality.
Framed vs. frameless cabinets
Traditionally, kitchen cabinets were made with a framed face to provide a finished edge for the space around the cabinet doors and drawer fronts. Modern kitchen designs eliminate the need for the face-framed method as the doors cover the entire cabinet front, but if you choose a more traditional look, you may still need to choose face-framed cabinets. Stock and custom options are available in both styles. Talk to your designer about which option is best for your kitchen.
Choosing Kitchen Cabinet Door and Drawer Styles
The style you choose for your cabinet doors and drawers sets the tone for the rest of the kitchen. Remember, when looking through potential style options that the color and material of the finished cabinets will dramatically affect the look and feel of the finished doors. Make sure you view your options in your material of choice! Some of the most popular styles to consider include:
Shaker: Probably one of the most well known styles of kitchen cabinet that's named after traditional Shaker style furniture. Shaker style cabinets come in a huge range of colors and materials making them a flexible option for any kitchen. Although this is a traditional design it can be given a modern look with the right choice of finish. The large range of available options means that there are shaker options to fit any budget.
Flat: This style gives a clean and sleek look to a modern kitchen. Flat designs look exactly like you'd imagine: a plain door with minimal design detail. The lack of intricate features help keep costs affordable while appealing to those looking for a simple yet effective look for their kitchen. Flat designs are available in a range of materials and finishes.
Slab: Slab designs are very similar to flat design doors, except that they lack any design detail. This ultra simple style is suited to modern kitchen and gives stunning clean lines. Again, these are available in many finishes.
Louvre: You may be more familiar with louvre doors as an option for closets but they can actually add a beautiful design feature to kitchens. The slatted design gives a simple yet strong look to cabinet doors. The design statement offered by louvred doors comes at a high cost but in the right kitchen it's definitely worth it!
Inset: Inset doors fit inside the cabinet's frame, giving a clean and refined look to a kitchen. With exposed hinges and traditional feel, this design adds a unique and stylish look to any kitchen.
Raised panel doors: Raised panel doors have a raised center panel as a design feature. These doors are available in many materials and finishes making them suitable for both traditional and transitional look kitchens.
Bead board: If you're looking for cottage style kitchen then bead board is definitely an option to consider! Bead board doors have a center panel made of bead board, which will give your kitchen that traditional country look.
Choosing Your Kitchen Cabinet's Finish
Cabinets are available in a wide range of finishes from natural wood to laminate. Choosing the right finish for your kitchen cabinets comes down to the look and feel you want from your remodel. If you'd like a more natural finish, consider choosing a solid wood option. Wood doors and drawers are available in many different types of wood and finishes—options include glazes, stains, and varnishes that can really make the wood's natural character stand out. You'll also want to think about whether you want a matte, semi-gloss, or gloss finish!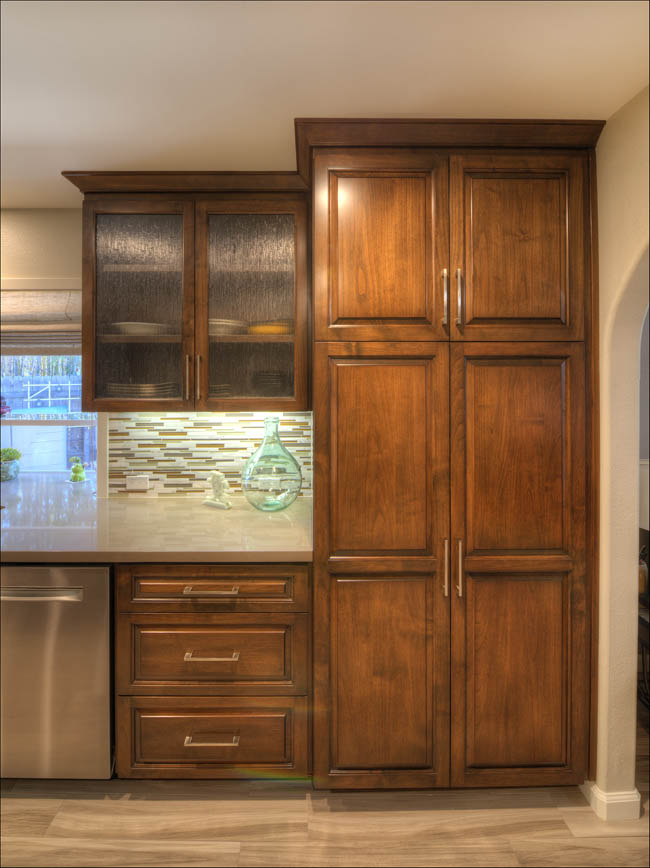 If you're more interested in solid finish options for your cabinetry you'll have a huge range of colors to choose from. You'll also be able to choose between single colors, multi-colors, or even distressed finishes. Again, you'll need to choose from gloss, semi-gloss, or a flat finish for your cabinets. The options really are endless. Ask your designer to show you a selection of choices to help you visualize what the finished kitchen will look like!
Using Cabinets To Hide Appliances
For a really clean and sleek feel to your newly remodeled kitchen, you should consider hiding your appliances with custom cabinet doors. Appliances, even the most well-designed ones, can be visual eyesores that distract from the look of your kitchen. It's actually very easy to solve this problem by choosing a cabinet door style that includes customizable options to cover appliance doors. Dishwashers and refrigerators hidden by custom doors can blend in with the rest of your kitchen giving you the ultimate designer look for your remodel. Ask your designer about cabinet options that include customizable appliance doors!
Don't Forget The Extra Features!
For a truly luxury feel to your new kitchen, you should consider what extra features you want to add to your kitchen cabinets, like soft close sliders that prevent your drawers from slamming shut. Talk to your designer about any special requirements you have for your kitchen so they can be sure to include them in the design. Don't forget to give special consideration to handles to really get the complete look for your new kitchen.
Lars Remodeling & Design can help with all of your kitchen remodel needs in San Diego. Call our team of talented designers today for a free remodel consultation.