Update Your Outdoor Living Space for Summer – 8 Tips to Get Started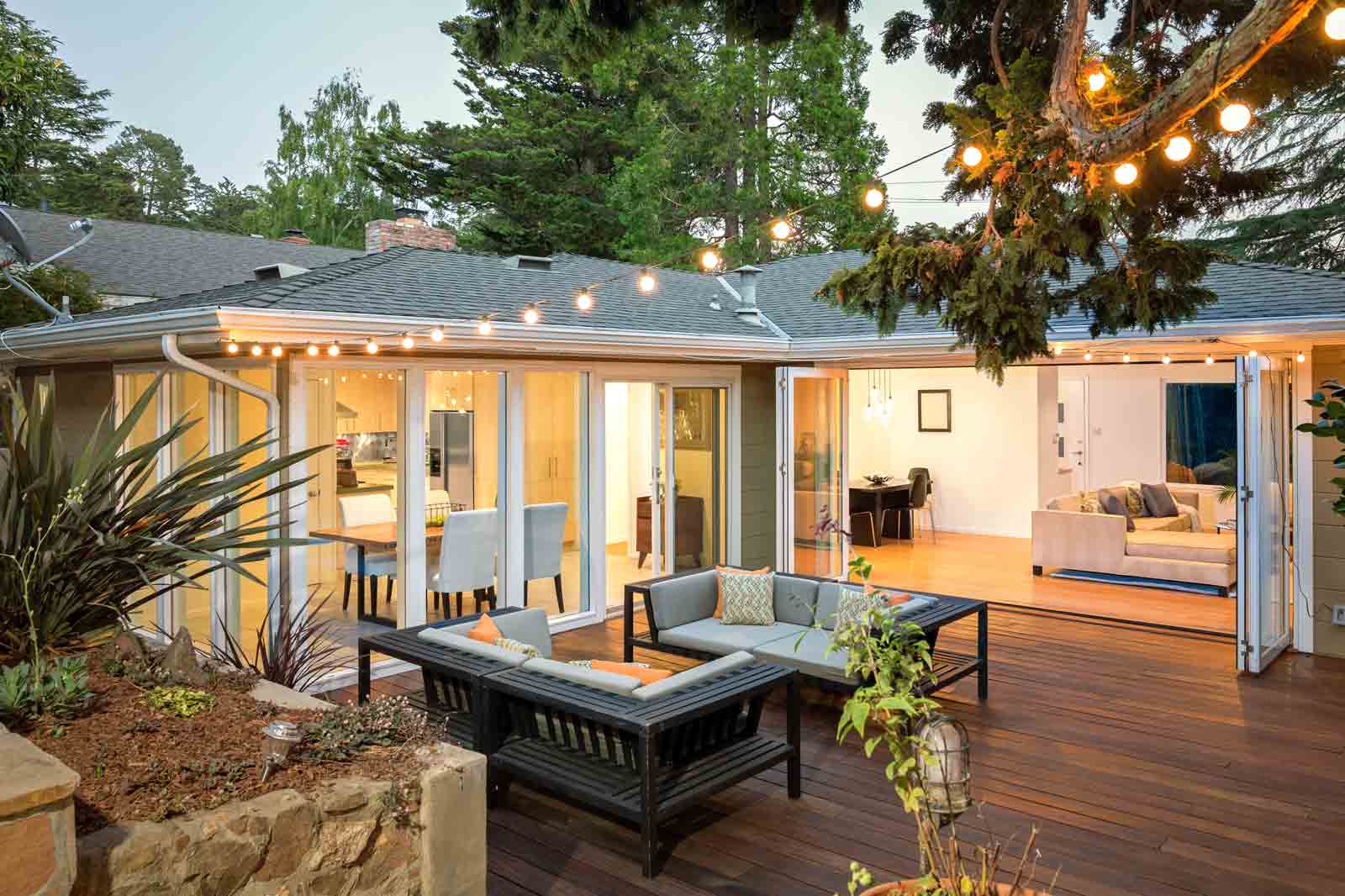 Spring and summer are the best seasons in San Diego to enjoy your outdoor living space. Maybe you want to make a few tasteful upgrades to get your space ready. Or perhaps you want to redo the entire outdoor living area to be the best backyard on the block. Either way, there is a lot to think about. What do you want your outside living space to look and feel like this summer? Follow these eight tips to get your design started:
1. Set the Mood With Outdoor Lighting
After the sun goes down, you want your backyard living area to be bright enough to see but not so bright it's unpleasant. Solar and LED lighting is great for the outdoors, providing long-life and low energy costs to brighten your space. Consider using one primary light source along with a number of supplemental sources to highlight specific areas or create ambiance in the evenings. Don't forget about security either. An outside spotlight set to a timer or motion detector lets you add extra outdoor illumination only when you need it.
As you decide what lighting to incorporate, consider how it will affect the outdoor wiring. It may be necessary to work with an electrician to ensure that everything is wired up correctly and safely. Light pollution is another thing to keep in mind. Too much lighting in the wrong places can ruin the mood. Homeowners can prevent light pollution by ensuring they have control over when, where, and how brightly lights shine. Smart home upgrades allow you to control these variables from your smartphone.
2. Incorporate a Versatile Collection of Furniture
Outdoor living space is typically a multi-purpose area. Sometimes you use it for relaxing, other times for entertaining. Most of the time you just want to soak up the sun, but occasionally you need dinner seating for a dozen. The best backyard spaces have a variety of furniture to accommodate whatever activities you want. Common options include single seats, sofa-style seats, side-tables and dining tables.
Outdoor furniture should complement the look of the outdoor area while also being durable and functional. Think about how many seats you need on a daily basis and for special occasions. Decide whether you want the furniture to stay put or be able to move around the space to create different seating arrangements for different functions. Lastly, consider how much you want to spend. Patio furniture sells at a variety of price points and retailers – from big box home stores, to online outlets, and specialty patio stores.
3. Add Accent Colors Throughout the Outdoor Living Space
Creating a beautiful outdoor environment is all about blending the natural with the man-made. Items like accent pillows, throw blankets, and outdoor rugs are all great for adding extra color to a space. Using the same colors throughout helps to tie all the elements together and gives the living area a cohesive feel. Plus, pillow and blankets make the space more comfortable for all. An outdoor rug is also a great way to anchor seating arrangements and keep the space looking tidy.
The first thing to decide is whether the colors will complement or contrast with the rest of the design elements. Consider the look of the foliage, the color of the back of the house, and the shade of the furniture. Experiment with both colors and patterns while keeping your overall aesthetic in mind.
4. Install Hardscaping for Easy Maintenance
Grass and flower beds are great until you have to mow or weed. Hardscaping is simply replacing landscaping with material like pavers, bricks, tiles, stones, or lots of other solid options. Every square foot you hardscape is an area of yard you no longer have to maintain. Even better, hardscaping provides a firm foundation for everything in your outdoor living oasis to sit on top of. It's why so many homes have at least a basic patio outside their back door. Installing hardscaping as part of your exterior lets you turn that simple patio into whatever spectacular space you want.
Your options may be limited by the soil conditions in your backyard. That said, installing hardscaping improves both the function and the look of your space. Materials like bricks and pavers bring rich natural color to the environment while creating eye-catching opportunities to build patterns or designs. Others, like stone, provide a bold contrast to everything around them. Working with an experienced landscape architect is the easiest way to explore your hardscaping options.
5. Boost the Cooking Capabilities
Sometimes a grill is not enough to satisfy all your outdoor cooking ambitions. Why not bring all the kitchen amenities you enjoy inside to the outside? Over the last decade, outdoor kitchens have become a lot more common, mostly because homeowners love having them. They can be as simple as an in-ground grill with some extra counter space and a sink. Or, they could incorporate gourmet-quality appliances and outdoor-only amenities like a wood-fired pizza oven. The sky is the limit when it comes to outdoor kitchens.
Designing and building a practical outside cooking area is just as complicated as doing it inside. Maybe even more so because of the weather-proofing considerations. Working with an experienced contracting and design team helps you get the most important and exciting decisions worked out early. Find a way to make the space look, feel, and function exactly how you like. At the same time, plan the logistics from beginning to end. For a project as big and important as an outdoor kitchen, it's a huge asset to have experienced experts to work with.
6. Create Shade and Shadows
Ideally, you can sit in the sun when you want and move to the shade when you don't. Planting trees or tall foliage to create shade is not feasible in a lot of backyards. Building a pergola, gazebo, or awning are alternatives to consider. Backyard structures create overhead shade. Plus, you can hang curtains or blinds from them to block out light and heat. In addition to adjusting the atmosphere, an elegant gazebo or a modern pergola add immensely to the design of the outdoor living space.
First, consider whether you have enough space to build a structure. If not, an awning provides lots of shade without taking up any floorspace. Whether or not the soil can support a structure is another consideration. Adding a structure is another project where it pays to consult with someone who knows outdoor design and construction in San Diego. Enlisting experts makes it a lot quicker and easier to erect a safe structure that incorporates all the design details you want.
7. Craft a One-of-a-Kind Mosaic
Imagine walking into a backyard with a stunning mosaic across the ground, running up a wall, or surrounding a water feature. Tile is the ideal material for an outdoor design because it's durable and water-resistant. Plus, it's available in just about every color and pattern under the sun. A mosaic can be totally random, it can commit to a repeating pattern, or it can represent something from real life. The possibilities are literally endless. Best of all, whatever you create exists in no other backyard but yours.
Keep the rest of your backyard design in mind as you plan your mosaic. You probably want it to complement the colors already present in the space. Sight-lines are another important consideration. Where do you want the mosaic to be visible from, and will it be the focal part of the living space? Work with a contractor who understands the artistry of mosaic as well as the techniques of tile installation.
8. Build a Dream Deck
Maybe you have no deck or a deck that is small and underwhelming. Why not transform it into the deck you have always wanted before the summer season kicks off? A great deck provides all the space you need for cooking, relaxing, and entertaining. It's also the perfect complement to natural green areas. It provides functional living space in the middle of a lush backyard. Most people think of decks as just wooden platforms. In reality, they can incorporate multiple levels, feature built-in planter boxes, outdoor kitchen amenities, and custom design details. Think of a deck as a blank canvas for your ideal open-air living area.
There is a lot to think about before building a deck. Size and shape are obviously important, along with the kinds of materials you want to use. The options and limitations presented by the backyard are also important to consider. Most of all, you want to ensure that whatever kind of deck your build is safe for you and your family. Designing and constructing a dream deck is a lot easier if you work with the right San Diego contractors.
Partner with Lars Remodel & Design Before Summer
Summer will be here before we know it. Finalize the perfect design, then put the project in action. Lars Remodel & Design has everything you need to transform your outdoor living space into a true oasis. We are ready to get started whenever you are. Contact us at your convenience.