Arrange Your Furniture Like a Pro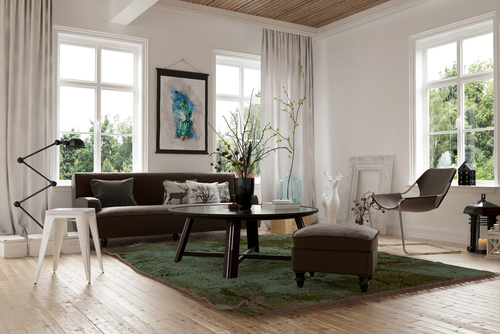 There are other ways to tie the room together but rugs, and smart and effective room layout and furniture arrangement is one of them. San Diego's interior designers have useful tricks up their sleeve, and if you want to get some inside scoop, read on. Switching to an open floor plan can transform your San Diego home, but if that is too complicated, overly time-consuming or likely to exceed your budget, there are other ways to turn things around.
Channel your inner interior designer and use tried-and-true furniture arrangement techniques from the leading San Diego interior designers and decorators to bring harmony into your home and make it more comfortable and welcoming.
Plan ahead
Before you rush headlong into moving furniture around, spend some time at the drawing board. The configuration of your new room layout and furniture arrangement should represent an improvement in terms of aesthetic and functionality at the same time. Factor in the room's dimensions, the position of any heat registers, electrical outlets, windows and doors and put your plan on paper to better visualize it. This will help you spot any shortcomings and maximize your use of space while creating a polished look that makes sense in the long run.
Focus on optimizing functionality
We get it, you have that old grandfather clock as your proudest family heirloom that has to go on display in the living room. You also have that bulky sofa with matching chairs that cost a fortune. But focus on what matters the most: rearranging your furniture is all about raising the functionality of your room to the next level, and that may mean that some things have got to go. You also need to consider the ultimate purpose of the room and the average number of people in it. This will help you make smart choices in terms of furnishings and seating area.
Find the focal point of the room
Whether it's the balcony, the view or the fireplace, every room needs a focal point. Find the focal point for you and orient the furniture accordingly. If you plan on setting up a home theater system in your living room, bear in mind that the safe distance between the screen and the seating area should be at least three times the diagonal measurement of the screen.
Look at the bigger picture and prioritize
You must be proud of your huge collection of cushions or handpicked knick-knacks that took you years of thrifting to put together. But pause for a beat and pick only the essential room elements for starters. In the living room, this is usually the massive sofa which should preferably face the focal point of the room. Go from there and structure your interior room design around that.
Consider your desired room vibe
Do you want a formal-looking living room that will impress your in-laws? Establish symmetry in the room. On the other hand, if you want to achieve an inviting, casual look for a laid-back gathering of close friends or family? Take the asymmetric approach and play with design ideas.
Make room for smooth traffic flow & circulation
We seldom realize how irritable poor furniture arrangement choices can make us, especially if there is heavy furniture blocking the pathway between two doorways. It is possible to arrange the furniture and seating area so as not to disrupt normal and unhindered traffic flow if you plan ahead, and you will thank yourself for doing it. If the room is spacious enough, try not to push any furniture against the walls as this can give the room a cramped feel. If so, you may want to let some items go. The chairs in the room should be 8 feet apart at most, while the minimum distance between them should be 36 inches.
Diversity is attractive: aim for variety & contrast
Let's put it this way: monotonous is boring, dynamic is fun. And if your room design lacks variety or contrast, you might get bored with it soon. Aim for variety and contrast in terms of shapes, dimensions, materials, textures and colors, as well as solids and voids, curved and straight lines and curvy and angular pieces.
Easy-to-reach is easy-to-use
Nowhere do we need convenient and practical solutions that save time than in our homes. Organize your space and storage so that everything is easily accessible and within reach, especially the items you use frequently. Place tables, including coffee tables and end tables, within easy reach of the seating.
Ask San Diego's top interior designers and decorators for guidance
At Lars Remodeling & Design, we love what we do and we want to help you fall back in love with your home. Whether you are considering getting a whole living room addition for your San Diego home or just want to revamp your existing living room on a budget, we can give you a fully customized project design that will fulfil your expectations and maximize your investment. We will turn this design challenge into an opportunity. Schedule your appointment today and make the most of our expertise and experience!