How an Open-Plan Addition Can Boost Your Old House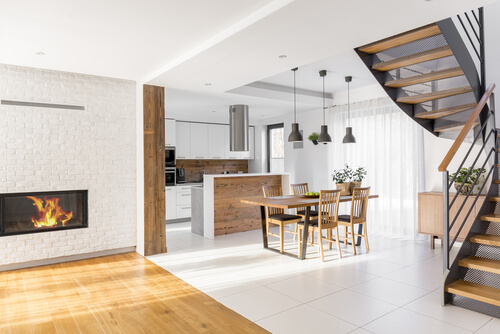 A modern lifestyle demands modern living solutions and ideas. Unfortunately, many homes in older areas of San Diego are simply screaming for changes, as they're simply not cutting it anymore. Not by today's standards. That is why, if you're looking to modernize your home, you should consider going with an open-plan addition.
Now, implementing a home addition is not something homeowners decide to do lightly. They think there's a lot of knocking down involved, and they're afraid that their home might lose that initial appeal they've bought it for.
That's not going to happen, and you'd be surprised just how often there's actually no need to knock a part of your old home down. Plus, with everything an open plan's going to give you, you should really think about consulting a design and contracting company.
How can an open-plan addition breathe new life into my home?
When you're pondering taking the plunge and deciding to make an open-plan addition to your home, the fear of construction work and change can deter you from reaching the right decision. That is why you should be well aware of all the ways an open-plan can help look at your own home with googly eyes again.
It's modern

Open plans are the thing of the now. As charming and elegant some of the living solutions that come with older homes are, they're not exactly suitable for modern living. Open layouts are just what your contemporary, relaxed lifestyle demands.

Plus, modern open-plan additions usually offer connections to your outdoor space, which is great. And, with improvements in technology, you can now hire professional designers to envision an addition that will have minimal environmental impact.

It doesn't require knockdown

Many people purchase older homes with an idea of taking a sledgehammer to them, knocking most of them down, and making structural changes that will suit their current desires. However, open-plan additions do not require any knockdowns.

You can still turn your traditional home into a contemporary one without any overly-invasive structural work. Whether you're making master bathroom additions, or using your existing home as a base for a new structure that will complement it, you don't have to knock anything down to make it work. Blending modern with the traditional can often leave you with a design that is far superior to starting from scratch.

It improves upon your home

Without taking away anything from it. Although each contracting project is different, and there isn't a set list of rules that you have to follow when making changes to your home, there are rules of thumb. And these experiential rules tell us that it is always better to incorporate as much of an existing structure as possible and improve upon it, than tear everything down and start all over again.

Using the structural integrity of your current home is always superior to spending larger amounts of money on removing interior walls and remodeling the space in such a way. Creating an addition with an open layout allows you to preserve as much of a gorgeous piece of traditional architecture as possible, while improving it with a much-needed modern living space.

It increases living space

It is often that projects such as these require not only an increase in the functionality of the current space, but also for more actual space. This means that an open-plan addition is not only a stylish-and-sophisticated solution, but a practical one too.

Picture this – once you're done making an addition, you could completely repurpose the now-older part of your home. For example, you can use the former living quarters and divide them into bedrooms, or perform internal refits and add a bathroom as well.

This will leave the open layout free to be used as the new living quarters, while the rest of your home is now a private-room heaven. You will have extra room for guests, a fresh living area, and a new appreciation for your home.

It's eco-friendly

Finally, improvements in construction materials will make your new open-plan addition as green as possible. The floors, the ceiling, the walls, and the windows will have far better thermal insulation than your old home.

This will prevent heat gain in the summer, and stop heat loss in the winter. This means less air conditioning and heating during the seasons, which helps significantly lower your carbon footprint.
Who are the #1 contractors in San Diego to make an addition to my home?
If you'd like to modernize your home and improve your living conditions by making a stylish open-plan addition to it, you'll definitely need the right contracting & design company for the job. Luckily, you have Lars Remodeling & Design to rely on.
Our comprehensive range of first-rate home remodeling services means that whatever the ideas you have for your home, we can make them a reality. Partner with us and let's give your home a brand new look. Contact us today!