8 Alternatives to Plain Wood Flooring in the Kitchen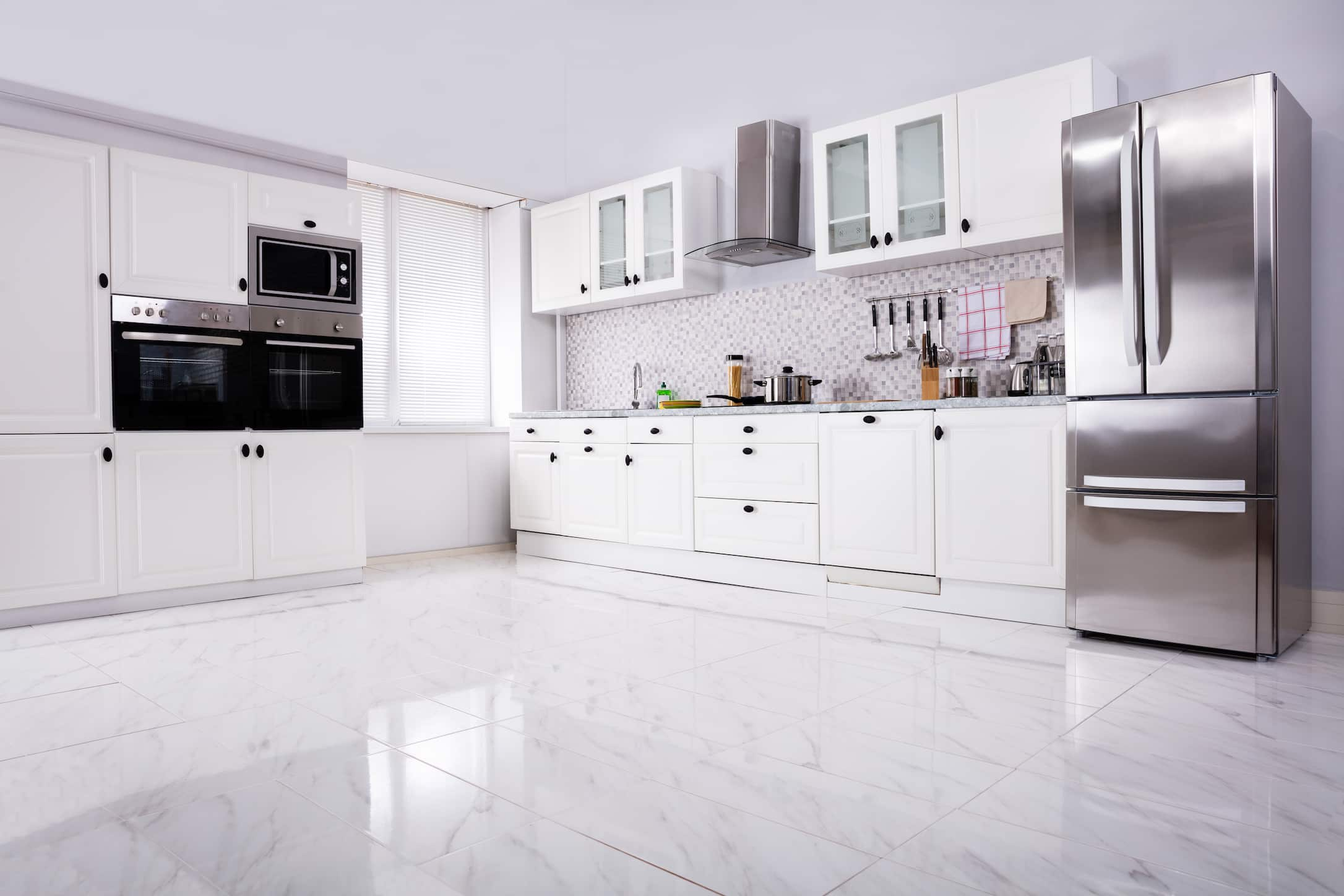 It's no surprise that wood is one of the oldest and most popular flooring choices in kitchens throughout the world. After all, wood is widely available, relatively easy to fix or replace, and it fits reasonably well with the majority of kitchen color schemes.
But what if you want your kitchen to have a more distinctive look? In that case, you're in luck! There are many great flooring materials and creative ways to implement them that are just ideal for a modern kitchen.
What is the best flooring for a kitchen?
Here are the top 8 most interesting kitchen flooring options:
1. Blend of straights and circles
If you want a truly distinctive floor, you can combine tiles of different shapes (squares, wedges, rectangles, etc.) to form a pattern entirely your own. For the best effect, you should mix two or three different colors. A combination of white, black, and gray is never a bad idea!
2. Herringbone pattern
Why rely on wood alone, when you can combine it with another material? For instance, you could intersperse solid oak pieces with black porcelain tiles to form a herringbone pattern. The white veins within the porcelain tiles serve as an extra touch that makes this type of flooring truly one-of-a-kind.
The herringbone pattern works with other materials as well. For example, if your kitchen opens into your porch or sunroom and you want to achieve an indoor-outdoor feel, you can create the same herringbone pattern with bricks.
3. Midcentury style
If you prefer a more old-timey look, a good choice is to use square white cement tiles and surround them with gray edging. By placing the tiles evenly and at perpendicular angles, you'll create an interesting grid that looks both uniform and unique.
4. Panda marble
Panda marble is called that because of its distinct white and black coloring, and the water-like patterns it forms. A well-designed panda marble floor resembles water flowing through ice. It's a truly incredible look that has to be seen to be believed.
5. Checkerboard
Tiles arranged in a checkerboard pattern are a truly classic kitchen flooring option that can work well regardless of whether you're going for a traditional or modern look. Furthermore, this effect can be achieved with many different materials, including ceramic, marble, and even wood.
6. Polished concrete
This simple flooring option is best used in modern kitchens or kitchens that use a softer color scheme. For example, the gray floor goes really well with white or metallic appliances, light-gray kitchen counters, and dark-gray accents.
7. Patterned tile
Tiles come in countless different materials and patterns. What's more, you don't have to cover your entire floor with these tiles. For instance, you could create a patterned tile "rug" around the island in your kitchen, and cover the rest of the floor in wood or single-color tile flooring.
8. Escher's cubes
Maurits Cornelis Escher was a famous graphic artist who specialized in mathematically inspired lithographs, woodcuts, and mezzotints. Incidentally, his three-color cube-like patterns can look absolutely gorgeous when applied to a kitchen floor.
Where can I hire the finest kitchen renovation experts in San Diego?
Renovating areas of your home (or even your entire house) is a great way to update its look and make better use of the available space. With the help of a reliable renovation company such as Lars Remodeling & Design, you can even add an entire new floor to your house!
As the premier provider of home remodeling services in San Diego, we have the expertise, the experience, and the equipment needed to provide you with the home you've always wanted. Reach out to us today!